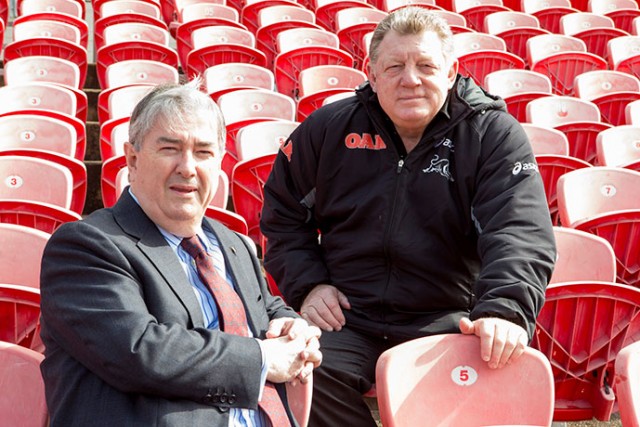 Penrith's Bicentenary and the City's long association with rugby league will be celebrated at the Panthers' final home game of the season next month.
Penrith Mayor Ross Fowler joined Panthers boss Phil Gould at Pepper Stadium this morning to make the announcement ahead of the game against Newcastle on September 5.
Mr Fowler said this was a fitting occasion to acknowledge Penrith's strong and proud sporting tradition.
"Some of the City's earliest photographs are of people playing sport, so this gives us a pretty good indication of how important sport was to our ancestors," Cr Fowler said.
"Sport continues to play an important role in the life of our City and our community, with rugby league being one of the most popular sports to play and watch.
"Since its introduction to Penrith in the early 1900s, Rugby League has grown in size and scale. In fact Penrith is now known as the heartland of Rugby League, so it seems appropriate that we use the final game of our local representative team to celebrate our much-loved sporting pastime."
Mr Fowler said there will be special gifts for those who attend the match.
"Those attending the game will receive a special Bicentenary wristband on arrival and the field will feature our Bicentenary hashtag #penrith200, which we hope will encourage people to post and share their Facebook and Instagram posts of the match," Mr Fowler said.
"Whether it's from the sidelines or on the TV screen at home, I hope the community will support the Penrith Panthers in their last game for this season and use this as an opportunity to remember our City's rich history.
"By doing this they'll be supporting the players, acknowledging Penrith's Bicentenary and celebrating this important milestone with us."