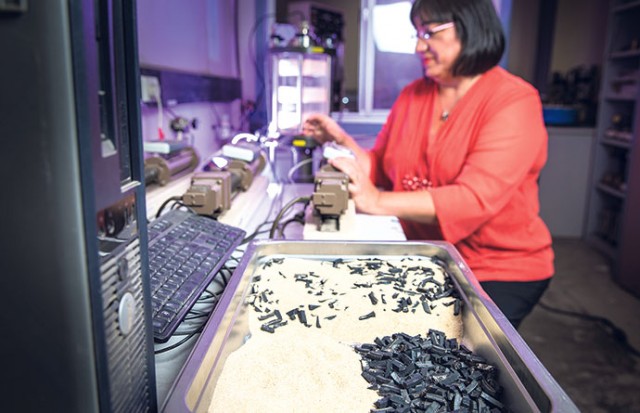 A Glenmore Park woman's research could potentially change the lives of people living in earthquake-prone regions around the world.
Before moving to western Sydney, raising three daughters and completing her PHD in civil engineering, 51-year-old Soledad Mashiri grew up in Concepcion, Chile.
It took almost 20 years after enrolling in a Master's degree in 1992 in Chile, for Mrs Mashiri to re-enrol in Australia and complete her thesis in 2010.
On July 24, Mrs Mashiri graduated from the University of Wollongong, where she conducted research into reducing the impact of earthquakes on low-rise buildings.
"I like challenges, so I decided to go back to finish my Master's degree with the encouragement of my husband, who always believed that I had the ability to graduate," she said.
The research project is close to Mrs Mashiri's heart, after a tragic quake struck her Chilean home town in 2010.
"This earthquake made me realise that my research had a very important meaning and contributed to my passion for the topic," she said.
"Thinking that thousands of lives could be saved in the future kept me well motivated during my journey."
During her thesis, Mrs Mashiri divided her week between studying in Wollongong, and doing shift work in western Sydney.
Her efforts were well worth it, after graduating with flying colours, and being urged by her supervisors to continue her research.
Mrs Mashiri's research involved investigating mixing sand and rubber chips from old tyres to cushion building foundations, bringing the concept one step closer to practical application.
"My investigation proposes a simple methodology of determining the optimum ratio of mixing sand and tyre chips in line with the design requirements for a particular project," she said.
"Not only is the sand-tyre mix more accessible to developing countries where resources and technology are not adequate for earthquake mitigation, it also has high potential for consuming a large amount of scrap tyres in an environmentally friendly way."
Her research will benefit earthquake-prone regions, and in particular developing countries where 80 per cent of the 20,000 annual deaths from earthquakes occur.
"I believe that every engineering project should have a distinct social benefit," she said.
"We are responsible of our contributions to society and should consider the global benefit rather than individual or personal benefit."
– Dale Drinkwater