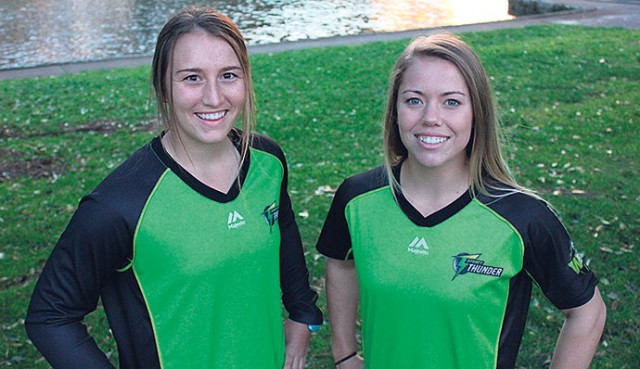 EXCLUSIVE: Two best friends from Penrith are about to take their sporting careers to the next level after they were selected to be part of the very first Sydney Thunder Women's Big Bash League (WBBL) team.
The Weekender can exclusively reveal that 21-year-old Naomi Stalenberg and 17-year-old Mikayla Hinkley have been confirmed as Thunder players ahead of the competition's debut this December.
Both girls, who play in Penrith Cricket Club's first grade women's team, said they were thrilled and shocked to learn they would be a part of Australian cricket history.
"Not long after the Women's Big Bash League announcement, I got a call from Thunder General Manager Nick Cummins who said he was interested in having me on the team – the feeling was incredible," Stalenberg told the Weekender.
"This is a huge step in the right direction for women's cricket in this country and to be a part of it is outstanding."
Teenager Mikayla Hinkley was even more surprised to be selected in the team, especially considering her young age.
"Only being 17 I definitely wasn't expecting to get the call," she said.
"I knew the WBBL was taking off this season but never did I think I would get the opportunity to sign with the Thunder."
Announced last month, the WBBL begins this December and will replicate the popular men's competition with eight teams across six states.
Both Stalenberg and Hinkley have always been big supporters of the male equivalent, often attending games each summer.
"I've always been a big fan of the concept and have been to a few Thunder games in the past," Stalenberg said.
"I was definitely a big supporter of the men's BBL and also went to a few matches. I actually follow it quite strongly every year that it's on, so to be a part of it now is incredible."
The pair will begin training with their new Thunder teammates soon before their first game against the Sydney Sixers at Spotless Stadium on December 6.
Best friends for years, the girls said they were grateful and over the moon to be able to share the experience together.
"We both enjoy our cricket and for us to be in the team at the same time is just out of this world," Stalenberg said.
– Nathan Taylor