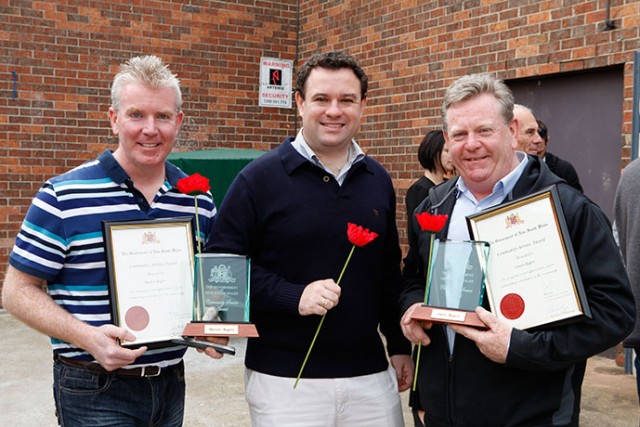 Local brothers Martin and Owen Rogers were awarded with Community Service Awards this week for their work on Poppy Park, established for the ANZAC Centenary in April.
Over 10 weeks the pair developed Poppy Park into a floral arena for the community to visit and to help them remember those who served for the country.
It gained nationwide attention and became an iconic part of the Penrith CBD, albeit for a temporary period.
State Member for Penrith, Stuart Ayres was at the morning tea on Monday to award the brothers in a surprise presentation of the certificates.
"These two, along with the volunteers, managed to showcase Penrith on a national level with the creation of Poppy Park," Mr Ayres said.
"It was truly an incredibly special community activity and these things just don't happen unless people roll their sleeves up and do it."
Over 1500 people volunteered to help create the poppies and place them at Poppy Park in the lead-up to the Centenary.
"We were able to activate people's interest in the Centenary and bring that Penrith spirit into Poppy Park," Owen Rogers said.
"It happened because the volunteers made it happen."
The Penrith area only receives two Community Service Awards each year to present to members of the public for outstanding community-based work.
While Poppy Park has now been dismantled, there's no doubt that it will remain an important part of Penrith's history and legacy.
– Jade Aliprandi