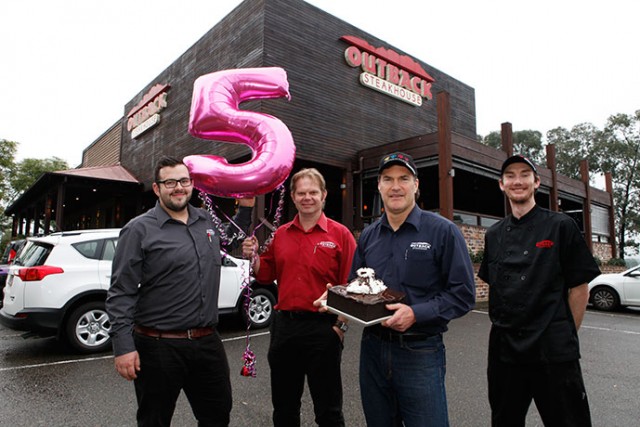 Outback Steakhouse Penrith celebrates five years of trading this month and has enjoyed year-on-year success since they opened their doors at the Panthers Complex back in 2010.
Outback has established itself as one of Penrith's most popular eateries and has served over three quarters of a million guests in that time.
Outback prides itself on the quality of food which is all prepared on the premises including cutting the meat and prepping every one of the hot and cold sauces.
Outback employs over 80 Penrith locals including 10 staff with disabilities, successfully employed through the local Ability Options office that all work together to deliver one of the best dining experiences in the area.
Another reason for Outback's success, and one they have had local and national recognition for, is their support for the community in which they all live, work and play.
Outback's commitment to 'Involvement in the Community' is a weekly focus for the management team led by proprietor Mike Hicks.
"Since day one we have looked to partner with schools, clubs and associations in the area and raise money by barbequing at their fete events as well as supporting the daily requests for fundraising donations," Mike said.
"Businesses in Penrith are very supportive of the community in so many different ways and we are proud to play our part.
"Our staff look forward to these events and especially enjoy going back to see how the funds raised have helped the cause."
Outback Steakhouse Penrith have raised over $100,000 in the community over the past five years, supporting Relay for Life, Panthers on the Prowl, local schools including St Mary Mackillop, St Nicholas of Myra and various sports clubs including Jamison Little Athletics Association, Emu Plains Junior Rugby League Club and the Penrith Emus.
Happy Birthday Outback!
(Sponsored Content)