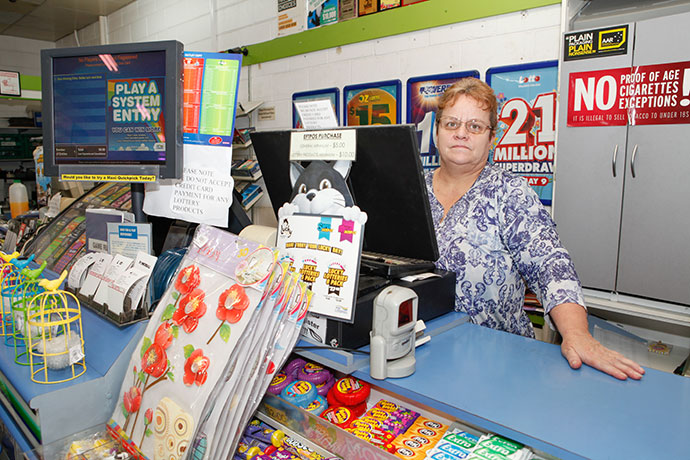 Small businesses in Cranebrook Village Shopping Centre are struggling to accept they might not come back when the centre closes in six months.
Business owners received a letter last week asking them to vacate by November 6 for complete demolition of the centre that will make way for Woolworths and Aldi.
Kate Brown has seen three generations of families come through her store in the last 25 years, but said this will be the end of her Cranebrook newsagency.
"It's a major end of an era, we can't wait two years to reopen – it will be the end of us," Ms Brown said.
Ms Brown said it feels like a slap in the face to have been told construction would be rolled out in stages, then for plans to change underneath them.
"Penrith City Council told us they were going to build around us… we saw it coming, but we were told we weren't being shut down," she said.
Construction was to be rolled out in stages, but when Ritchies IGA elected to leave sooner than expected, new owners Cranebrook Village Pty Ltd with project developers AusPacific Property Group decided to completely demolish the whole centre at once.
A Cranebrook Village Pty Ltd representative said the previous staging concept was based around Ritchies IGA's long term lease until 2016, and them leaving will speed up the process.
But locals will be forced to shop elsewhere while construction is underway.
"Ritchies IGA are looking to vacate the centre early… so we decided to do it all at once. By doing it all at once it can be built in around 44 weeks, and can be open late next year as opposed to two and a half years later if we went in stages," the representative said.
"There's certainly a possibility [businesses can move back in], but no decisions have been made as we haven't gone down the leasing path yet."
Craig Field from Top Drops liquor store said it's hard to believe his business will go back in the centre with the likelihood of a BWS moving in when Woolworths does.
"It's hard for independent liquor stores to get back in centres… if they put in a BWS, where do we go?" he asked.
"We've been told to leave, and we haven't been told we have another business when they rebuild. That's tough to handle, and tough for the 13 staff I employ.
"I don't want to speculate. I'm still hopeful, they haven't said no yet."
– Dale Drinkwater