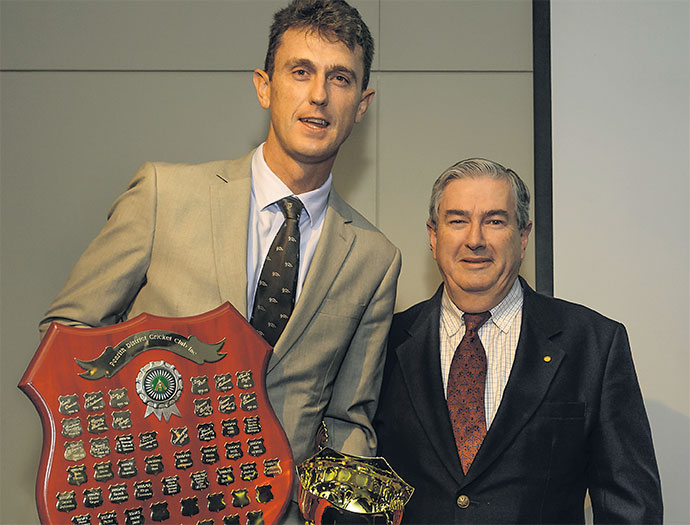 At 39 years of age, cricketer Daniel Dent has been named the 2015 Penrith Cricket Club Men's Player of the Year.
It's the first time Dent has won the prestigious award after being named runner-up on numerous occasions since joining the club in the 1991/92 season.
The Player of the Year Award is determined based on points awarded to the players after each round. The player who makes the most impact on a game is awarded the maximum points.
Speaking with the Weekender, Dent said he was very surprised to finally have won the coveted award.
"I've been runner-up at least three times before and I've always been within a point but could never quite get over the line," he said.
"I wasn't expecting to win at all. I thought Ben Betros would've won given his performances during the year. I think I only beat him by a point, so it was very close."
Dent, a predominant bowler/all-rounder, began his cricketing career at Penrith back in 1991 as a Year 11 student.
Despite getting married, having three kids and moving out of the area, he still calls Penrith home.
"I used to live in Emu Plains with my parents and when I got married I moved to Quakers Hill. I got offered to play for Blacktown but I declined to remain at Penrith," Dent said.
"I've played with just about everybody at the club including many guys who have retired.
"You build a lot of camaraderie with the guys you're playing with and once you reach that stage, you don't want to leave anymore."
Dent is a life member of the Penrith club and is also on the honour roll for taking more than 300 wickets throughout his 23 year career.
He's played in every grade at Penrith apart from first grade, and this year was a valuable member of Penrith's fifth grade team.
"The last five years I've done a lot of mentoring with the youngsters coming through, and I've moved around the grades to do that," Dent said.
Others winners during last Saturday's Penrith Cricket Club Presentation Night were: Women's Player of the Year, Naomi Stalenberg; Limited Overs Player of the Year, Patrick Jackson; T20 Player of the Year, Patrick Jackson; Outstanding All-Rounder and Batting Award, Ben Betros; Bowling Award, Taren Finemore; Wicket Keeping Award, Tyran Liddiard; Fielding Award, Matthew Halse and Ed Brown; Rookie of the Year, Nathan Muskell.
– Nathan Taylor