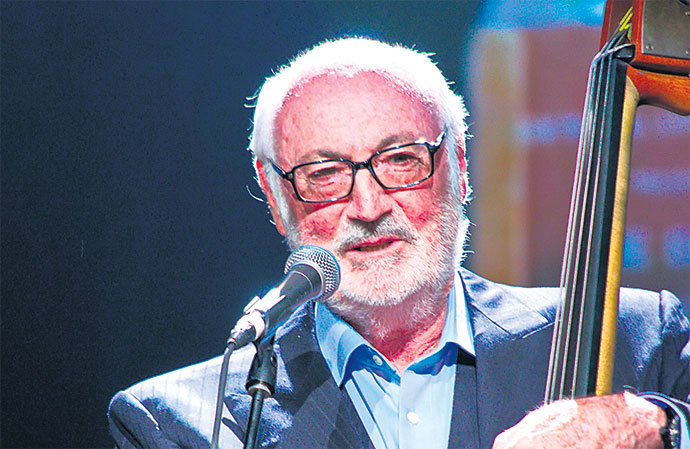 In the 60s musician Athol Guy's beebop group decided they wanted to take on a more folky, bluegrass sound. They knew they'd need a lead vocalist so they set up an audition with a woman named Judith Durham, who Athol had met while working in an ad agency.
What they found that day was the beginnings of a band that would become one of Australia's most loved folk/pop groups.
The Seekers became a worldwide hit, launching the foursome into superstardom.
Founding member Athol Guy admits that he knew it was going to be something special from the very first time Judith sang with the band.
"We just sat together that night when Judith came along with us for the first time, we hadn't rehearsed anything, and we started [singing] behind a couple of the songs that she knew," he said.
"The background harmonics blended beautifully and suddenly we realised we had a sound that was quite different to anybody else, and the audience told us that the first night."
What followed was a host of top 10 hits, including 'I'll Never Find Another You', 'Georgy Girl' and 'Morningtown Ride', sell out tours around the world and a special place in the Australian story that saw them named as joint 'Australians of the Year' in 1968.
Decades later, while working on his memoir, a friend of Athol's suggested he put together a production with all the footage and personal memories he had from his time with The Seekers.
"He said why aren't you doing a little mini musical with all those stories related to the specific songs," Athol said.
Thus began 'The Seekers Story', a show that combines the visual and the musical to tell the story of The Seekers and Athol's start in the world of music.
"There didn't seem to be anything like this one, which was a very personalised story," he said.
"It's actually my story right from the time I was a little choir boy and how I sort of formed my musical tastes and how that morphed into the two little bee bop groups that I had in the late 50s and early 60s which then became The Seekers."
When 'The Seekers Story' comes to Penrith this June, Athol will be joined on the Evan Theatre stage by musical friends including Buddy England, Michael Cristiano, Jenny Blake and Rod Hulls.
"They're my own little local group. I've had this group of friends together for eight or nine years," Athol said.
Together they will perform some of the biggest hits from The Seekers including 'I'll Never Find Another You', 'Georgy Girl', 'The Carnival is Over', 'Morningtown Ride' and 'I Am Australian'.
The group will also bring to life tracks from other iconic 60s artists who influenced The Seekers during their rise to fame, including a tribute to iconic musician Dusty Springfield.
"It's not a covers group, the music is a tribute to the times right from early days, and a tribute of course to The Seekers and their great catalogue of songs," Athol said.
'The Seekers Story' offers a little bit of everything for those who love the music of the 60s.
"It's very fresh, there's some very funny moments that people won't be expecting and a few stories where they'll go 'wow I didn't know that'," Athol said.
The crowd reaction to the show so far has been overwhelmingly positive.
"The audiences have been fabulous. There's been standing ovations for the show," Athol said.
"It's lovely just to get out and meet people who've had The Seekers music as part of their lives for so many years.
"That's one of the reasons I like to go out around the regional areas. You get to meet people who you just don't meet on the serious, city concert circuit."
Through his years touring with the band and sharing their story Athol has gained an appreciation for how important The Seekers are in the history of Australian music.
"I think we're part of the family wallpaper in so many homes around the country," he said.
This is one show that's certainly not to be missed!
Athol Guy – The Seekers Story will be on at the Evan Theatre on Thursday, June 25 at 8pm. Tickets are $25. For more information or to purchase tickets, visit www.penrith.panthers.com.au or call 4720 5555.
– Kate Reid