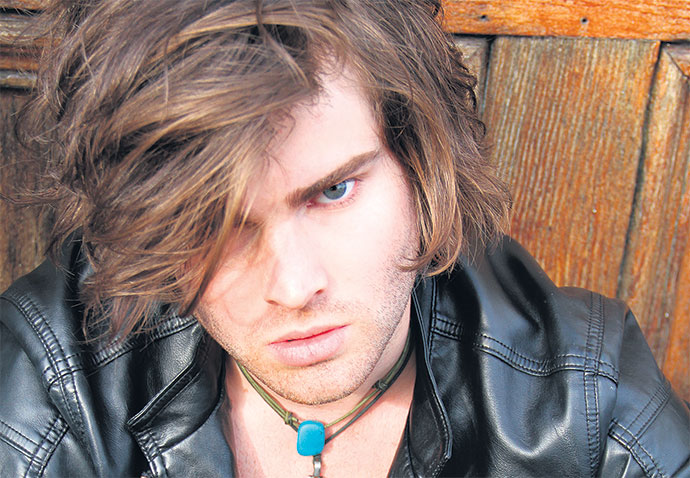 The X Factor 2014 runner-up Dean Ray is an intense character who clearly doesn't do things by half. By the time he was 16 the singer/songwriter had decided to leave home due to an overwhelming urge to see what else was out there.
"I wanted to be more experienced at the world, at life in general, by the time I turned 18, that was the main thing that got me out," Dean said.
"In the end looking back on it, that sort of lifestyle has really added to my artistry."
For the 22-year-old, much of his musical inspiration has come from the world around him.
"I'm an observer, I sort of watch the world and see it as it is and sing of what I see," he said.
"Sometimes they're experiences of mine as well but a lot of the time I'll sing it as if it's an experience of mine but it's actually not, it's somebody else."
Along with being beneficial to his music career Dean feels that the years after he left home taught him not to take things for granted.
"[Those experiences] help you to not be a spoilt little shit as well. The day that you start paying rent and power and rego, that's when you start to realise what it's like," he said.
It's really no surprise that Dean ended up in the music industry.
His parents are musicians and much of his childhood was spent around the music world.
"When I was 12 I realised that's what I wanted to be, which is cool to realise it so young," Dean said.
"A lot of people hit 30 and still don't know what they want to do, or where they belong, but I just feel so comfortable in a stage environment."
The singer/songwriter decided to take his unique brand of music, which he describes as a mix of indie, folk, rock and blues, onto the silver screen and auditioned for reality talent show 'The X Factor'.
"If you've got your stuff together, if you've got a plan, then it's an opportunity that you don't want to really miss out on," he said about the decision.
"Television is an incredible vehicle to get your music heard and it really launched me into where I am now, able to tour around with a full band and a full setup and play to a whole bunch of people, it's fantastic.
"Before the reality show I was playing at pubs with like 30 drunk people there not really listening," he laughed.
Clearly it was the right decision with all four judges being blown away by his performance of 'Bette Davis Eyes'. After finishing second, Dean released his debut self-titled album in November 2014, which included his debut single 'Coming Back', which debuted at number five on the ARIA charts.
Local fans will have the chance to hear songs from the album when Dean Ray performs at Rooty Hill RSL on Sunday, April 19.
After the launching pad of 'The X Factor', Dean has big dreams for the future, starting with taking on the international market.
"Dominating the world would be nice," he laughed.
"I've always wanted to play places like Sydney Entertainment Centre and Rod Laver Arena and things like that. So like 15,000 seaters and stuff, that has always been my aim.
"So just taking it overseas and getting it to as many people as I possibly can before I die, is what it's about."
While it's not easy standing out in a crowded group of talent show alumni, Dean feels that the key to success is embracing your individuality.
"If you notice all these pool of artists that are doing big gigs around the world, none of them follow or copy anybody else," he said.
"They've all got their own unique thing and that's all it is. I just be who I am because no one else is like you. You be who you are and therefore you're unique straight away.
"Do your own thing, if it's not successful who cares, at least you're being yourself, you're being who you are. I'm just lucky enough that my style's a little bit unique and it resonates with people."
Dean Ray will be performing at Rooty Hill RSL on Sunday, April 19 at 2.30pm. Tickets are $35. Visit www.rootyhillrsl.com.au or call 9625 5500.
– Kate Reid