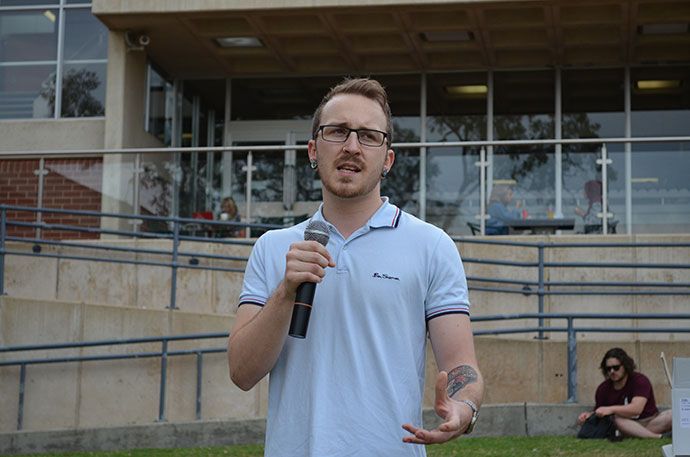 The University of Western Sydney (UWS) Kingswood Campus has shown its support for 'Bali nine' duo Andrew Chan and Myuran Sukumaran through an on-campus vigil on Tuesday.
The event was addressed by university representatives, including 23-year-old student and Greens candidate for Londonderry, Shane Gorman, who is of similar age to the pair when they made the biggest mistake of their lives.
Chan and Sukumaran were sentenced to death by firing squad by the Indonesian government for planning to smuggle over 8kg of heroin from Indonesia to Australia in 2005.
Lecturer and human rights activist, James Arvanitakis expressed it's not uncommon for people in their twenties to make mistakes and that it's unfair to continue to judge them so harshly.
"Capital punishment doesn't do anything for anyone, it doesn't make society a better place. There's no way if these guys die tomorrow, that we are going to be any better off," he said.
"It's important that we continue to show our support in any way possible."
Mr Gorman referred to capital punishment as the mere "fast food" of law and order, and said it's no good for an international society.
"It's cheap, easy, it's not very good for us, we don't really feel very good about it and it's really just a cop out," he said.
"I understand countries should be able to determine their culture, their future and the way they conduct themselves, but I think the international community is moving away from that."
Mr Gorman believes the newly appointed Indonesian president has a big precedent to set to show he is a serious leader in the country and will not back down to international pressures.
"There's a strong nationalistic backing in Indonesia to have these people executed and that's what we are up against," he said.
"It's just a shame that we've got two men over there that are being used as pawns in a game."
UWS's chaplain Christine Gapes said she hopes the Indonesian government can find honour in giving mercy and forgiveness to changed men.
"They are not killing bad men, they are killing an artist and a pastor," Ms Gapes said.
– Dale Drinkwater