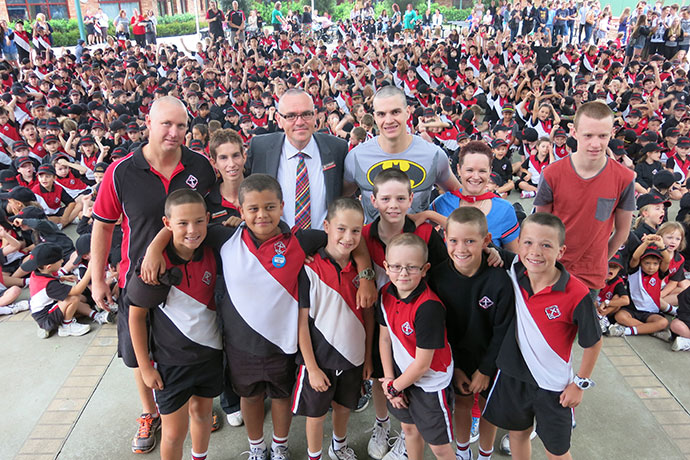 Upon hearing that one of their own was diagnosed with leukaemia, the Penrith Anglican College (PAC) community took action, raising over $50,000 for the Leukaemia Foundation in a matter of days.
In a huge act of compassion, a group of 14 people including students, teachers and the school headmaster put their hands up to 'Be Brave and Shave' for their classmate, while the school community dug deep in support.
The community's effort resulted in over $50,000 in donations for the Leukaemia Foundation through its World's Greatest Shave campaign, a handful of bald teachers, a group of hairless students and one chuffed leukaemia patient, who watched on as his mates went under the clippers for him on Friday, March 13, just over a fortnight after his diagnosis.
"What we have done is a small gesture in comparison to what sufferers of leukaemia go through," said PAC Headmaster, Mark Lewis.
"When someone in your community has an issue and needs help and support, the community bands together. It is a really encouraging way to support them."
The school started with a goal of just a few thousand dollars but it didn't take long for their fundraising efforts to well exceed that.
"First of all it was a few students wanting to raise $1,000 each. Then I said that I would do it for $10,000 and then there were some more staff and then some female staff members. It was all about raising that bar a little bit further and further again. The community has just totally got behind that and have been incredibly supportive," Mr Lewis said.
Year 5 student Hamish Dillon said that having his head shaved was a scary experience but he was glad that he did it.
"It is a good cause and my friend was diagnosed with leukaemia. I wanted to shave my head because he is a good mate," he said.
– Katherine Tweed