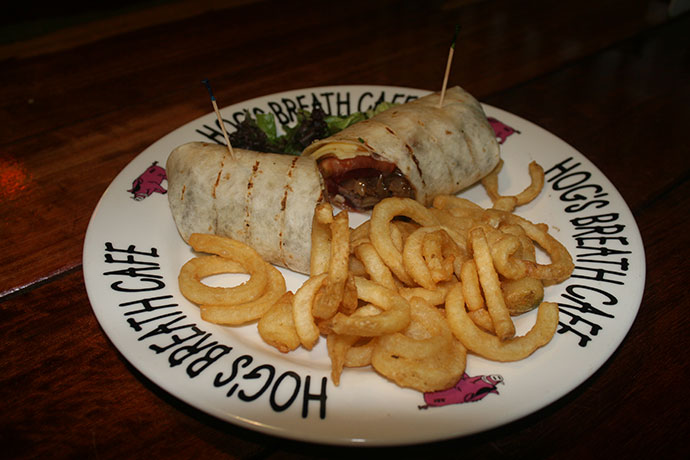 For a fun and funky night out in a relaxed and casual setting, Hog's Breath Café cannot be surpassed.
With a menu designed to cater for the whole family, you'll be eager to devour one of their famous steaks, seafood specialties and fill up on their delicious desserts.
All while soaking up the rustic American décor – old number plates, car parts and telephone booths.
There are a range of starters to get your appetite going; soup of the day, bruschetta, garlic and herb bread and of course the curly Hog Tail fries.
With so many great starters to choose between, the Finger Food Combo will have you covered.
It offers a sensational selection of their Hoggies Loaded potato skins (one of each kind), delicious vegetable spring rolls, crumbed chicken tenders and salt and pepper dusted calamari and is served with a duo of dipping sauces; honey sweet chilli and Hog's Breath honey mustard.
Perfect to share between two, you'll be racing the others on your table to get your fair share of chicken tenders and calamari as they will be snapped up by hungry fingers fast.
When it comes to main meals, don't underestimate the satisfaction of a great steak.
The Aussie Prime Rib is a char-grilled steak topped with a fried egg flipped on the grill, two crispy bacon rashers and smoked BBQ sauce. Served with salad and fries this steak is a winner every time.
From the specials menu, the steak wrap is a lighter meal but equally delicious – steak pieces, tomato and onion served in a fresh wrap with salad and chips. A great dish if you want to leave room for dessert – which you will!
The sticky date pudding is served with delicious home-made butterscotch sauce, plus ice cream and cream. And the chocolate fondue with fresh strawberries, banana pieces and marshmellows will have you licking the dipping chocolate bowl clean.
For a dessert that is both delicious and visually impressive, try the rocky road sundae with vanilla ice cream and strawberry ice cream on a pile of warm chocolate mud cake drenched in chocolate fudge sauce, plus marshmallows, strawberry topping, whipped cream and toasted coconut.
Hog's Breath Cafe is located at the corner of Jane and Riley Streets, Westfield Plaza Penrith. Call 4721 4288 to book a table today.