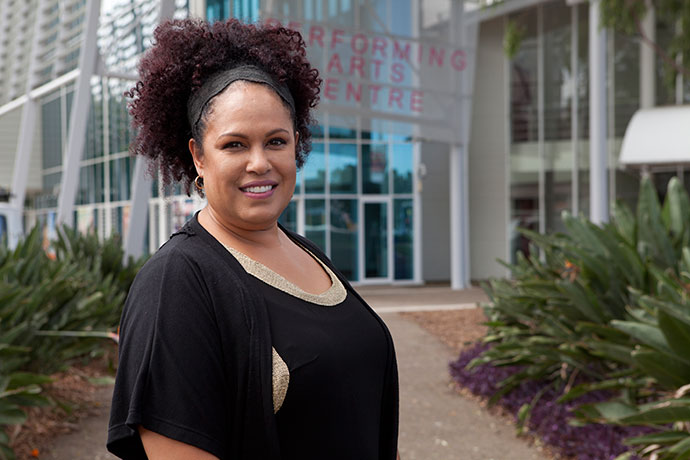 Quintessential Australian song 'My Island Home' was never meant to be Christine Anu's track.
The cover song was originally recorded as a demo to showcase her singing skills to record labels in the hopes of earning the singer a place in an artist development program.
"I got the cassette together and gave it to Mushroom Records and that became, by default, my song," Christine said, reflecting on the track that has become a part of 'The Great Australian Songbook'.
"It was only ever meant to be an example of my voice. It was never about that song.
"'My Island Home' was what segued me and people just loved it and it really did, it started to roll ahead of me and I was always trying to catch up with this song.
"I get it now, I absolutely get it now. I get the power of song. That, especially with a song like 'My Island Home', it's bigger than me. It's its own entity and it was always going to be this really amazing, powerful song."
20 years on and the ARIA award winning singer is celebrating the anniversary of the release of her debut album 'Stylin Up' which featured hits including 'Party' and 'My Island Home'. Most of the tracks on the album were composed by Christine and Melbourne musician David Bridie.
Christine never expected the album to give her the platform on which to build a long term career in the music industry.
"I never thought that it would get legs after a year," she said.
"I thought that I was just going to be a one hit [wonder], not even a hit but just a one album pony and now 20 years later the one song has got me into the room to meet people like Nelson Mandela, it's got me to sing on stage with people that I never, ever thought I would, that I'd only ever seen names of in newspapers or watched on black and white television."
Audiences will get the chance to experience the beauty of Christine's voice when she performs at The Joan's 25th Anniversary Community Celebration Day on Saturday, March 28.
The celebration is set to be a huge day for Penrith with a range of entertainment including performances by the Penrith Symphony Orchestra, roving circus talent, parkour by Team 9Lives, open drama and music classrooms, interactive displays for the kids and of course it wouldn't be a true Aussie event without a sausage sizzle.
As part of the ticketed events on the day, Christine will be joined on stage by the legendary Indigenous artist Archie Roach.
"I think it's a sign of coming of age to share a stage with somebody as significant as Archie," Christine said.
"I feel like… I can stop and take check, take stock at 20 years and go 'I've actually accomplished enough and I am worthy to stand on stage next to this man that I revere. His talent, his stories, his life, his spirituality and of course his culture'."
Though Christine has performed to thousands of people both locally and internationally she admits she still gets nervous around music industry greats.
"Even still now if there's ever an opportunity that I do have to share the stage with name people I still get really nervous that I'm even going to be in the same building as them or that I'm going to share the stage with them," she said.
Reflecting back on her career over the last 20 years, Christine has clearly learnt many lessons along the way. The wisdom she shares gives an insight into what has kept her in the industry for over two decades.
"If you walk in and you're feeling pretty green and you're very scared out of your mind because you've never done opera before and you don't want to make a fool of yourself, it's OK because people will look after you and you go away from your experiences just having learned so much and are better for it," she said.
"Make your mistakes and own it because it makes you strong. That's my motto about life; you made a mistake, get over it," she laughed.
"Get up, turn the engine back on and then just keep going."
Christine Anu will be performing with Archie Roach at 2pm at The Joan's Community Celebration Day on Saturday, March 28.
Tickets to the concert are $50-$55. For more information or to purchase tickets, visit www.thejoan.com.au or call 4723 7600.