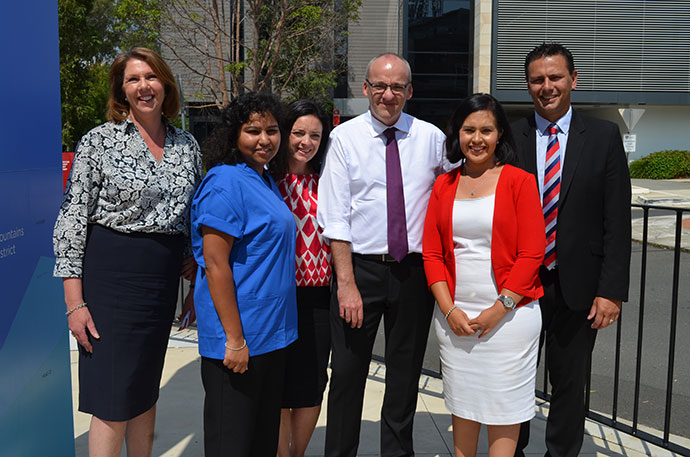 Nepean Hospital will receive more than just a face lift if a Labor government keeps its promise to invest $351 million if elected in this month's state election.
Labor leader Luke Foley announced the investment at the entrance to the hospital earlier today, that will see the long-awaited Stage 4 of redevelopment underway "immediately".
The redevelopment will upgrade the hospital's renal, cardiology and neurology services, introduce up to four new operating theatres and a new High Dependency Unit.
Mr Foley said the redevelopment will include more first class services to ensure Penrith and the Lower Blue Mountains cope with population demand in coming years.
"This Stage 4 will deliver an enhanced Comprehensive Cancer Centre, it will upgrade the very busy emergency department and deliver new and enhanced birthing suites," he said.
"And I'm aware that the birthing unit here was left 21 staff short, that's a result of Liberal Governments taking millions out of our health system."
Mr Foley believes all this can happen without the privatisation of the electricity network, by using its profits to reinvest.
"We are keeping the hundreds of millions of dollars of profits that our electricity network returns to the state every year in the state budget to pay for the nurses we need," he said.
'"That's why I can promise nurse to patient ratios [1:3] delivering 840 new nurses, nurse led walk in centres delivering 45 new nurses and 500 new paramedics," he said.
Labor's investment commitment will be extracted from their $1.7 billion hospital infrastructure fund, under their $10.5 billion A Better Way infrastructure plan.
Labor Candidate for Mulgoa Todd Carney said the staff at Nepean Hospital are working heroically amid funding cuts, in one of the most over worked emergency departments in NSW.
"44 per cent of patients are forced to wait more than four hours for treatment. A Labor Government will ensure the hospital finally received the funding it needs," he said.
Penrith MP Stuart Ayres has been contacted for comment.