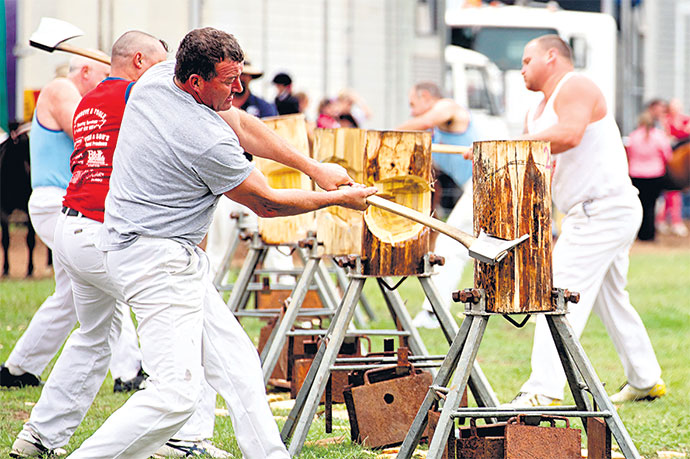 The annual 111th Luddenham Show, to be held on February 21 and 22, is set to be one of the biggest yet in its proud history.

Known as "the country show", Luddenham is a unique show being so close to Sydney, however, still retaining a true sense of yesteryear.
Set in picturesque surrounds overlooking paddocks toward the Blue Mountains, you would not realise that you were only 10 minutes from the centre of Penrith.
Historic pavilions, bar and kitchens add to the old world atmosphere. As a further point of interest Luddenham is one of three showgrounds in the state still owned by the community and not by a government body. As a result the annual show is the hard working volunteer committee's main fundraiser for the upkeep of the grounds and running of
future shows.
After three wet years all signs point towards an outstanding event with all the show favourites back once again along with some exciting new additions headlined by a Daihatsu car. Now a little old hatchback may not seem all that exciting, but this is no ordinary car. It is actually powered by a jet engine. It has featured on 'Top Gear Australia' and toured such places as the Bundaberg Air Show, Summernats and Brisbane.
This, however, will be the first time that it has been seen at a local show and will light up the main arena with smoke and flames on both days of the weekend. For those who love the smell of petrol (even two stroke) and the screech of wheels we have even more. Returning this year we have the Showmow team, who will be racing in their hotted up sit on lawn mowers, making its debut this year they even have a drag racing mower. For all those wives out there, hubby may even be pleased to mow the lawn with one of these little beauties.
If the smell of burning rubber and the roar of a big donk ain't your scene, don't worry there is plenty for you to see and do also. As everyone is aware, 2015 marks the 100th anniversary of the Gallipoli landings, and a tribute to the 18th Battalion and Light Horse Regiments will take pride of place to pay tribute to both those brave men and their mounts. The 18th was raised locally for service in the Great War and the bloody battles of France.
Names that still stir Australian hearts, such as Pozières, Mont St. Quentin and Hill 60, are where the 18th wrote their name bold in Aussie minds. Along with the Light Horse Regiment the 18th Btn A.I.F. Living History Group Australia will be there in period costume to mount displays and interact with crowds. As a further remembrance the Luddenham A.H & I society will be unveiling a plaque to honour the local men who fought and died
for Australia.
Of course, all the normal show favourites are there with two full days of horse classes, along with cattle and poultry judging, as well as the ever popular sheepdog trials and all the fun of sideshow alley. For those after a little more bang and excitement in the judging ring there will be a bull ride, steer and poddy ride as well as wild cow tagging. Not to be outdone are the antique sulky race and horse sporting events. Everyone's favourite at many shows is the wood chopping and Luddenham will host many of the sport's biggest names as they work their way to glory at the Royal Easter Show. One of the always popular events is the dog high jump and calcutta. If you think your pooch at home can leap you are invited to bring it along and pit its skills against the other local dogs. An event that will prick the interest of the strong men and women is the yank-a-ute challenge which sees groups of five people haul a ute in the fastest time to take home the huge prize purse.
Maybe you are more of an arty person? Well this is your opportunity to actually compare yourself with a variety of classes taking place from photography, cooking, flowers and leather work to painting, preserves and even a home brewing section.
For all pavilion classes entry is free and can you imagine your bragging rights with a blue ribbon for champion home brew or best plate of scones?
Over many years Luddenham has gained a reputation for the quality of its stage entertainment even being one of the first places a young Anja Nissen preformed. This year the feature band is Tuckitinya, who will keep the crowd rocking well into the night. Throughout the weekend the stage area will play host to various acts including the walkabout reptile display, Kosi and Pinky Fun Show, and performances by Penrith Performance Academy.
If you find yourself sitting in the crowd feeling as if you would like to be on stage, the show has catered for this with competitions such as whip cracking, poet's breakfasts, dog fancy dress and the country kid.
The showground can be found on the corner of Park Road and Campbell St just off the Northern Road, Luddenham. For further information go to www.luddenhamshow.com.au online or call 4773 4378.