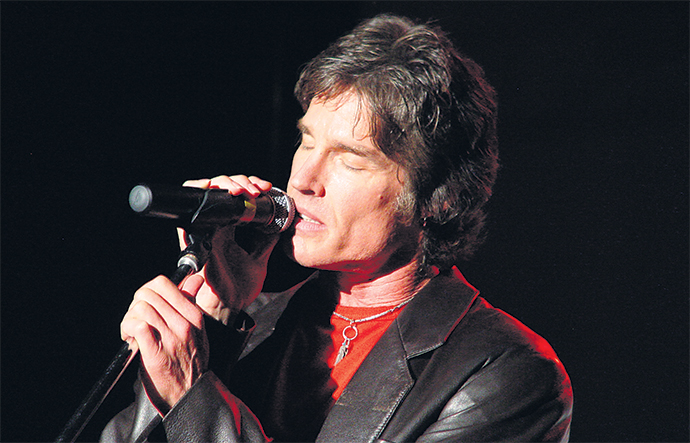 After playing the character of Ridge Forrester on the US soap opera 'The Bold and The Beautiful' from 1987 to 2012 – an impressive 25 year stint – Ronn Moss has become a pop culture icon.

It's hard to mention his name without someone piping up with their opinion on his infamous on-screen love triangle with Brooke and Taylor.
But Moss is also a musician – most well known for the 1977 hit 'Baby Come Back' – and come November he and Player bandmate Peter Beckett will be heading to Rooty Hill RSL to entertain fans with music and a few extra special treats for 'Bold and the Beautiful' fans.
"I'm going to have a big screen behind me and I'm going to show some behind the scenes footage of 'Bold and Beautiful' that I personally have taken over 25 years," Moss said.
"The people in Australia are going to see this footage for the first time. Nobody on the show has ever seen it, nobody on the crew has ever seen it, so I'm testing it out in Australia for the first time."
The show, titled 'An Evening with Ronn Moss' will give fans a chance to get up close and personal with Moss.
"I'm going to have a one on one rapport with the audience," he said.
"That's the thing I'm looking forward to. They can ask me questions, we can talk, we can bullshit, we can kid with each other, it's going to be kind of a real intimate evening and then add the rock n roll on top of that."
Since leaving 'The Bold and the Beautiful' – a show that attracts over 350 million viewers per episode – in 2012 Moss has been working on a few different projects including producing and acting in a TV series called 'The Bay'. The show follows Sara Garrett, a socialite who resides in the fictional Bay City. Ronn plays the character of Johnn Blackwell.
When asked if he favours acting work, producing, or the music side of things, Moss is quick to explain that when it comes to creative endeavours he can't choose a favourite – and wouldn't want to either.
"It's like having your cake and eating it too. That's always been a weird expression to me. Why would you want cake if you can't eat it? Why would you want to have something you can't touch? So for me doing the acting is wearing one hat, doing the music is wearing another hat. I'm starting to do producing. I'm producing projects so that's yet another hat," he said.
Though Ronn Moss has left the show, the character of Ridge Forrester has lived on, now being played by former 'All My Children' actor Thorsten Kaye.
Moss – and no doubt many of his devoted fans – have some concerns as to whether the character should have lived on after his departure.
"I did what I did on the show and I do wish that they had given that new actor a chance to do a new character rather than having to fill the shoes that I left after 25 years," said Moss.
"It's just not something that they're able to do and it's not working out that well. They should have given him a new character. So, you know, I have to let it go. It is what it is. I've moved on."
The show involves what has to be the soap opera world's most well known love triangle between Ridge Forrester, business woman Brooke Logan and psychiatrist Dr Taylor Hayes.
After going back and forth between the two women for over two decades Moss believes the best choice for Ridge is to not have to make a choice at all.
"I used to think 'oh he's being wishy washy, oh he's being indecisive', all that and then it hit me, 'wow he's been able to go back and forth between these two beautiful, amazing women for 25 years'. I don't see anything wrong with that, let's just keep that one going," he said.
But just how do you keep playing the same character for 25 years?
"I had to make it interesting to myself and if it was interesting to me hopefully it was interesting to the people watching. Because there were times, I must admit, there were times when I got bored," he said.
"There were times when I really got freaking bored of the whole thing and I thought, 'okay I can't keep doing this, I've got to find something to bring myself back to this so that everybody's interested'."
The show's popularity speaks for itself and Moss is grateful for their support, watching the show each week.
"It all adds up to, hopefully, [people]wanting to go along and be a part, like a fly on the wall and watch these people's lives," he said.
An Evening with Ronn Moss will be on at Rooty Hill RSL on Friday, November 14. Tickets are $50-$55. To purchase tickets visit www.rootyhillrsl.com.au.