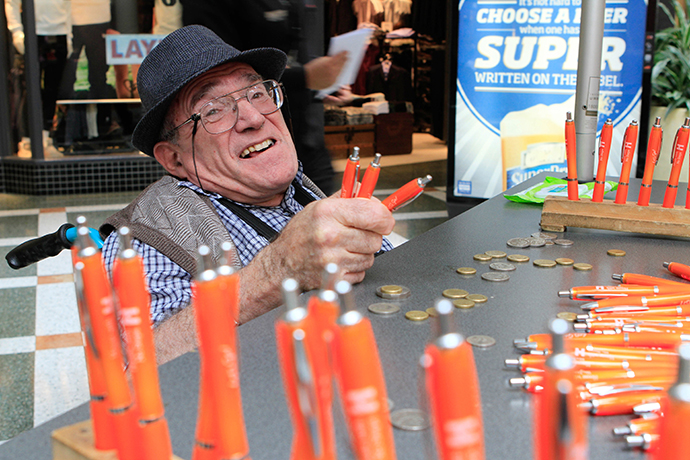 Disability support organisation, House with No Steps, is stepping up to help local icon John Boccanfuso obtain a new wheelchair.

When The Western Weekender reported that the local resident, who sells pens in Westfield Penrith for charity, was in need of a new wheelchair, the community banded together in support.
But in thanks for his many years of work raising money for their organisation, House with No Steps has taken the reins and is in the process of assisting him to obtain a new chair.
"Due to John's level of need he requires a custom built motorised wheelchair, which can be a complex and lengthy process," said House with No Steps spokesperson, Carly Manning.
"The first step has been an assessment with an occupational therapist, funded by House with No Steps, to determine what type of chair John will need.
"We will then work together with the NSW Government, John and his family on sourcing his new chair."
The process will be a long one, given that there is a waiting list, but House with No Steps has confirmed that John's family have identified that sourcing a new chair through the Government will be the best long-term solution for him.
This way, it will be much easier for Mr Boccanfuso to have access to wheelchair maintenance and repairs.
House with No Steps is intending on hiring a suitable wheelchair for him until he is able to use his own.
"John is a highly valued and much loved member of the House with No Steps and Penrith communities. We would like to thank the local community for their concern and support of John. We are very grateful for the wonderful work he does with us and will continue to support him through this process," Ms Manning said.
When he was 12-years-old, the Kingswood resident was involved in a bicycle accident that left him with severe damage to his cerebellum, which is the part of the brain responsible for motor skills.
He was left unconscious in hospital for weeks and when he woke, his co-ordination was so severely affected that he had to spend the rest of his life in a wheelchair.
When his wheelchair broke recently, he found himself unable to live the independent life he'd been enjoying.
"To get around now, I have to get pushed everywhere. I borrowed this wheelchair from where I live [Kingswood Court Aged Care Facility]," he told the Weekender.