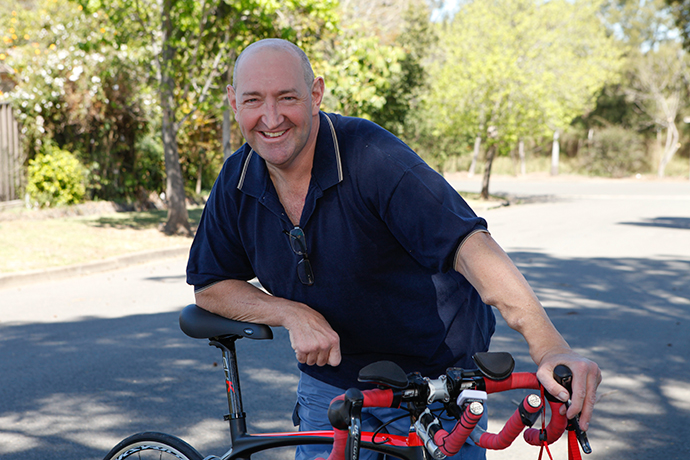 In a little over a week, a number of local people will join thousands across the country as they cycle for the Great Cycle Challenge in a bid to raise funds for the Children's Medical Research Institute.

The national event invites Australians to take on a month-long personal challenge that will see them aim to clock up long hours on the bike throughout October in the name of helping sick kids.
South Penrith's Laurie Birnie is one of a number of local residents who are taking part in the challenge from Wednesday.
"I wanted to take part because first and foremost, I love cycling but after having my own experience with illness, I want to do anything I can to help people who are sick, no matter what they are suffering from," he said.
"12 months ago I had a kidney transplant, so I know what it is like to be sick and reality is, I still am suffering from kidney failure. This is an opportunity for me to give back, after what I have been through, and help people who are ill."
The 45-year-old is hoping to study nursing next year, so that he will have more opportunities to directly help people who ill, but until then, he hopes that his participation in the challenge will make a difference.
Mr Birnie has not set a distance goal for his personal challenge yet, as he hopes to do as much cycling as he can, but is hoping to raise over $500.To support the challenge, visit his fundraising page; www.greatcyclechallenge.com.au/Riders/LaurieBirnie.
$1.2 million was raised in last year's Great Cycle Challenge and was used to fund cancer research at Children's Medical Research Institute.
"Individuals participating in initiatives like Great Cycle Challenge have already enabled CMRI's researchers to make a number of vital discoveries, including a test that will help identify some of the most aggressive types of cancers," said CMRI Director Professor Roger Reddel.
"The funds raised by the individuals and teams taking part in Great Cycle Challenge will accelerate the search for new treatments for childhood cancer. We are working towards a new form of treatment that is designed to target every type of cancer."
Anyone can take part in the challenge and are still welcome to sign up through the website www.greatcyclechallenge.com.au.