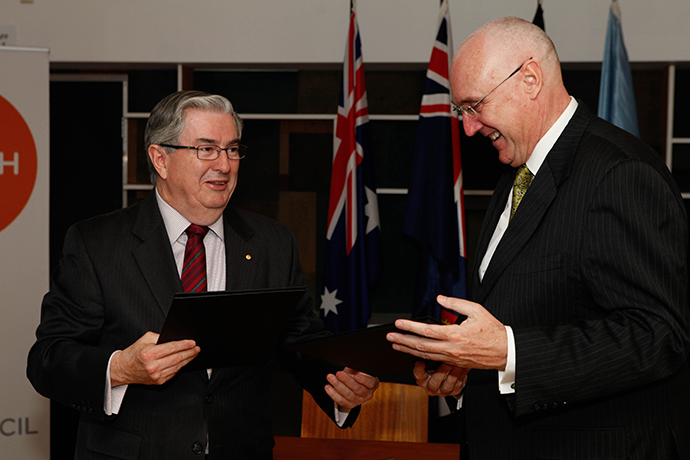 The University of Western Sydney and Penrith City Council have signed a historic Memorandum of Understanding (MOU) to further enhance their cooperation.

On Tuesday afternoon, Mayor Ross Fowler and Vice Chancellor Barney Glover spoke passionately of the benefits an MOU will bring to the region.
At the heart of the MOU is a shared vision to open up the University's Penrith campuses to the public and create a better sense of community.
There is also a focus on employment and training, with Council staff, University staff and students to work together in various training opportunities.
"As a Council we value the relationship we have with UWS. This MOU will finalise a relationship that's been in place since 1993," Cr Fowler said.
"This represents a mutual goal to create a 'smart city', working together on the Health and Education Precinct and also the Penrith Progression."
Prof Glover said that the University also feels the MOU is beneficial to both parties.
"We are about to embark on another round of master planning for our Penrith campuses, reflecting on the opportunities presented by the Badgerys Creek Airport," he said.
"We are also looking at how we cam open up our campuses to the community, while at the same time consolidate our campuses at Werrington and Kingswood."
Prof Glover indicated there may be opportunities for the community to benefit from UWS's state of the art performing arts facilities that are currently vacant and unused.