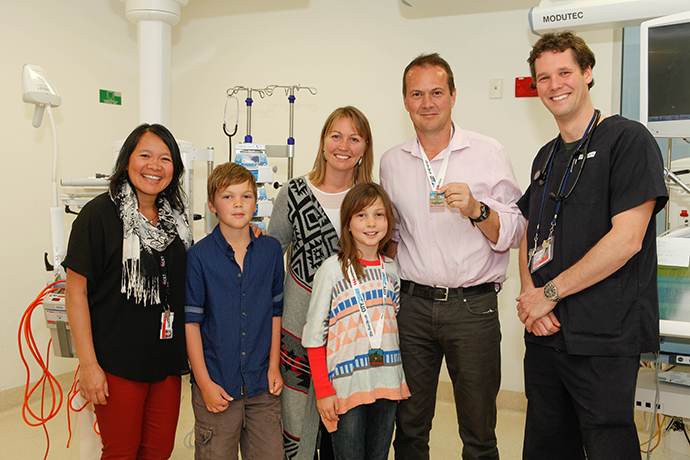 For most, running the gruelling City2Surf would be one of the greatest challenges you could confront.

But for James Caspar, it was a breeze compared to what he went through two years ago.
The father of two from Mudgee was flown to Nepean Hospital in October 2012 after suffering a severe ruptured aneurysm and subsequent bleeding of the brain.
He spent six weeks in the Intensive Care Unit (ICU), where he was placed in an induced coma and treated before being moved to another ward and spending over four additional months in recovery there.
Under two years later, Mr Caspar has made a full and amazing recovery that has blown away his former ICU doctors and nurses, who wouldn't have bet a cent that he'd recover completely, let alone take part in a 14 kilometre run.
Mr Caspar ran the City2Surf last weekend to raise funds for the ICU – his way of giving back to those who saved his life.
"I basically owe my life to them, and my recovery to them. I can't express my gratitude enough because I wouldn't be here without them," he said.
"I wanted to repay them in some way. If we could raise money for them or raise awareness for them, that was going to be the only thing I could do.
"I thought that I should do something significant and I knew that the City2Surf wasn't going to be easy, and it certainly wasn't. We did it in a fairly good time."
Mr Caspar ran the City2Surf alongside ICU doctor, Sam Orde, completing the run in one hour and 40 minutes.
To thank the ICU staff for their support during Mr Caspar's treatment, his wife Georgie and daughter Emily also completed the run alongside ICU doctor Nhi Ngugen.
"It was a very traumatic experience [James' hospitalisation], and it was a scary experience but my memories of being here are very positive," Mrs Caspar said.
"Once we got here I was just amazed by the culture of the unit and the fact that it felt like the worst thing had happened to James but we were all fighting really hard on the same team, in a way."
The family has raised over $5,000 for the unit so far, confident that they will meet their $10,000 target.
"James' story is a reminder to us, as doctors and nurses, of the strength of the human spirit and not to underestimate the potential a person has to recover," Dr Ngugen said.