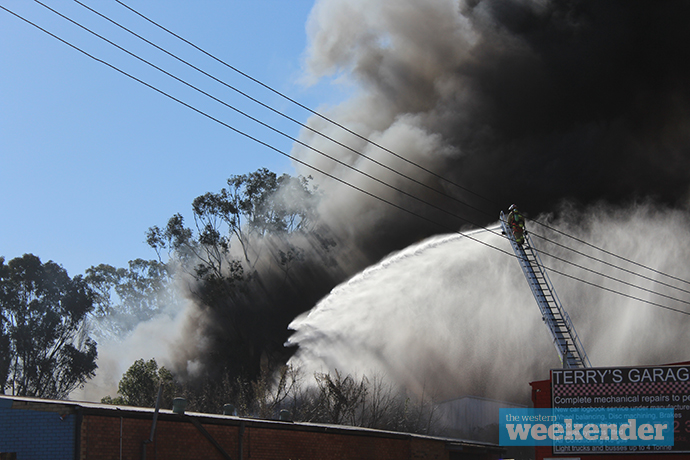 This afternoon a catastrophic grassfire broke out at Kingswood on Copeland Street, which within minutes was threatening a number of automotive businesses.

At 12.44pm Fire and Rescue NSW firefighters were called to the scene. It was about this time that Michael Bewley from Armour Automotive saw the flames.
"Me and [another] bloke went around to Cox Avenue there to get some parts and we were coming back and saw smoke down the bottom end [of the street]," he said.
"We pulled up in the driveway quickly just to have a look and we ran down to the workshops to see where it was going and we saw the wind shifting it up here and me and the owner of the place next door went right up the back tried to get a hose going but the water pressure was gone and that's when the trucks and the sheds went up.
"We got out of there. Pretty much, the firies turned up and there wasn't much else we could do."
17 Fire and Rescue NSW trucks were on scene and a handful of Rural Fire Services appliances to combat the ferocious fire, being fueled by the 30km/h northwesterly winds.
Mark of Mark's Auto Repairs stood helpless as fire fighters worked tirelessly to try and protect his business.
"All I can say is that I was in the workshop about 20 minutes ago and all of a sudden I could see and smell the smoke," he said.
"My business is in the back but I really feel sorry for the guys who have businesses in behind me, I think they are even closer to the flames.
"It's all happened so quickly."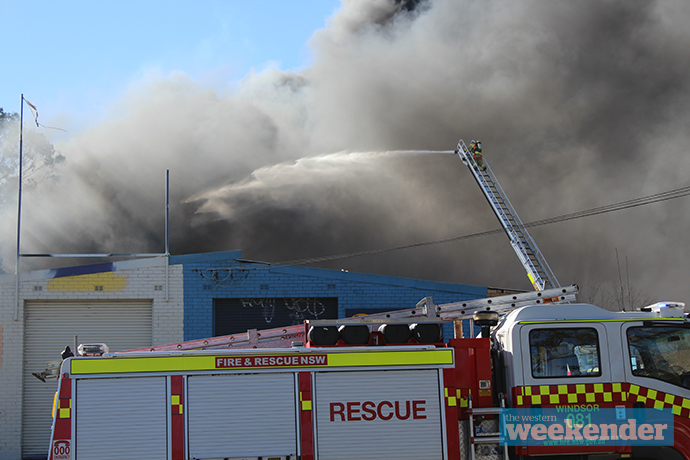 Greg Mullins, Fire and Rescue NSW Commissioner was on scene and just 2pm announced that the fire had been brought under control at three sides of the blaze.
"Earlier this afternoon we had a call to a grass fire. We sent two local units down, while they were on their way we received numerous '000' calls saying that buildings were at threat," he said.
"When the first fire crews arrived, they confirmed that and called for additional back up. We now have 25 fire crews and about 100 fire fighters on the scene. They have contained the grass fire but unfortunately it's moved into a panel beating business, and nearly set fire to three other factories. It's fantastic work by fire crews – they've been able to avert that threat."
Unfortunately, Commissioner Mullins confirmed that at least one business has been destroyed.
"It has basically been destroyed. The fire has moved through really dry grass and old car bodies and the flames have gone directly into the panel beating shop. Firefighters did their best to try and save that but were unable to. It's then impacted on three other buildings but firefighters were able to beat the fire back. They've done a fantastic job," he said.
"I understand a lot of people self-evacuated. They saw this fire coming toward them with the very strong winds. Firefighters moved some other people away. Thankfully there have been no injuries."
Fire crews are expected to remain at the scene for some hours yet. The cause of the fire has not yet been determined.