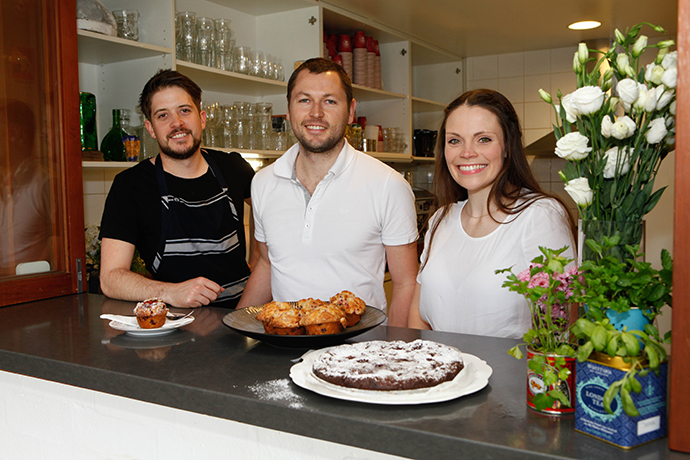 Café at Lewers is set in the beautiful grounds of the Penrith Regional Gallery and the Lewers Bequest. While the café has been around for years, it is now in the hands of a new, capable, young team who aim to bring their passion for food to the table.

Business partners Ben, Penny and Steve are all in their late 20's and though they are young the trio has plenty of experience in hospitality, with Ben working as manager and Steve working as head chef of the previous Café at Lewers for the last two years.
Their focus is on sourcing fresh ingredients from local suppliers where possible, with vegetables and herbs coming straight from their own garden.
The menu includes a range of delicious breakfast options including sweet corn fritters with bacon and homemade tomato chutney; smoked salmon and dill labneh; pesto scrambled eggs with goats cheese and spinach; traditional French toast; or the Lewers big breaky. There's also a special kids' breakfast menu with soldiers, bacon and egg on toast and mini French toast.
For lunch there's mouth watering meals like the slow-cooked pulled pork roll, American cheeseburger, roast beetroot salad, Lewers garden tart or the ploughman's board with prosciutto, cheese, pickle, egg, toasted sourdough with Dijon mustard and homemade chutney. There is also a selection of sandwiches, including 'The Margo', which is made with prosciutto, goats cheese and caramelised onions on sourdough.
Coming soon to the menu is a range of brunch cocktails – including the passionfruit mojito and peach bellini – along with a selection of wine, beer and cider.
If you have not yet ventured to the gallery now is the perfect time to head on down for some delicious food and beautiful art. Café at Lewers is open Tuesday to Sunday from 8am to 4pm.
Café at Lewers is located at Penrith Regional Gallery and The Lewers Bequest. For more information call 0401 774 215 or visit www.penrithregionalgallery.org.