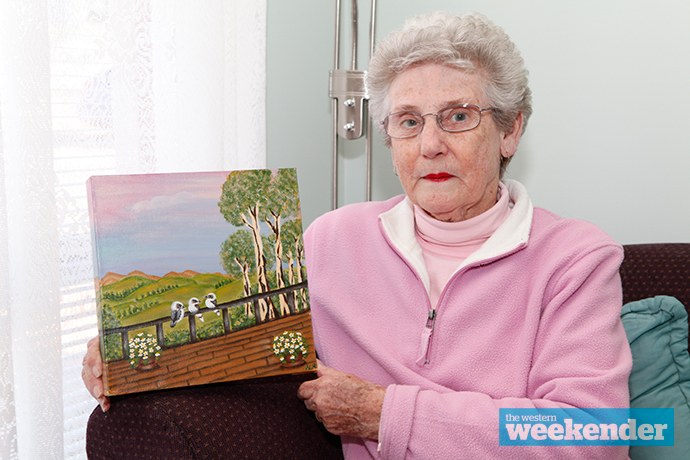 83-year-old Merle Matthews' folk art talent is on display to be seen by thousands over the weekend at the Sydney Craft and Quilt Fair.

The Penrith senior's work is part of a daisy-themed display, ending on Sunday, July 13, compiled of works by the 50 finalists in the Folk and Decorative Artists Association of Australia's (FDAA) Daisy A Day competition.
The Daisy A Day exhibition is in support of Ovarian Cancer Australia, an organisation the FDAA was keen to support as its membership is predominately female.
Ms Matthews jumped at the chance to be involved in a competition supporting cancer research, support and awareness.
"My daughter has pancreatic cancer, and so I like to support any and every cancer organisation possible," she said.
"I just hope by entering my work I am able to contribute my part, as competitions such as this should be less about winning but more about giving."
Ms Matthews' folk art work is painted on canvas and was inspired by a photograph of a veranda view she had been hoping to paint for some time.
She eventually got around to completing the work and the result is stunning.
"I have been holding onto this picture with the intention of painting it for what seems like forever, but there never seemed to be an appropriate opportunity until now," she said.
"When I heard the theme for the competition, I immediately knew it was the perfect excuse to recreate the picture that I love so dearly."
Locals can be proud of Ms Matthews and her brilliant work, which thousands of people now have the opportunity to see for themselves.
The Sydney Craft and Quilt Fair is showing at the Sydney Exhibition Centre at Glebe Island between Wednesday, July 9 and Sunday, July 13.
Admission is $18 for adults and $16 for seniors.
Visit www.craftevents.com.au for information.