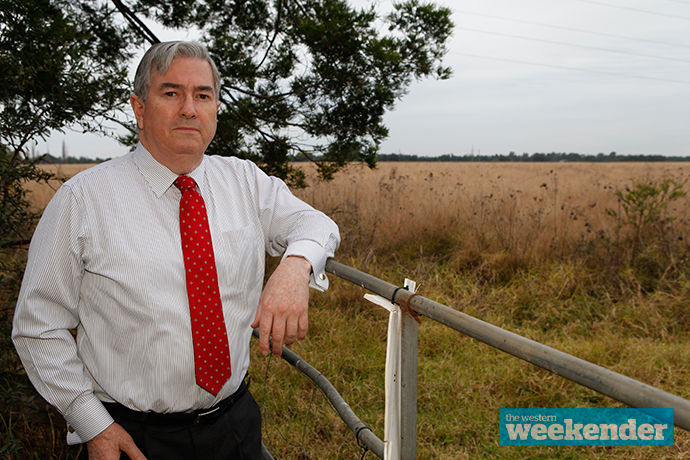 Penrith Councillors have ignored the advice of a floods expert and its own staff to put to public exhibition a development application to fill in flood affected land in Emu Plains.
With a history reaching back to 2006, the battle to have the 22 hectare site at the corner of Old Bathurst Road and Russell Street, Emu Plains rezoned from rural flood affected land to industrial has been nothing short of complicated.
1-4 Old Bathurst Road stretches down to the Nepean River and is bordered by residential development.
After lengthy consultation with the Department of Planning and Infrastructure, Council was ordered to ensure the development satisfied the local Floodplain Risk Management Plan before putting it on public exhibition. Penrith Council, however, has not completed a Floodplain Risk Management Plan for the area.
Instead, an independent expert was called in to verify that the flood modelling done by the site owners was up to standard in the absence of a Management Plan.
Independent expert, Dr Ian Joliffe of GHD said he does not support the re-zoning.
"There may be some issues with my interpretation… but I believe the proposal would change the flooding levels in the area," he said.
"The proposal will create significant flood impacts on adjoining properties for larger design events."
A flood expert hired by the site owners has suggested that there would be only small impacts on flooding levels. Questions were also raised over whether Council is legally allowed to change flood affected rural land to industrial use.
Cr Greg Davies argued that the land should not be sterilised simply because it is flood affected.
"My view is that we should seek legal advice, commence public consultation as this will involve seeking advice from State Agencies and let the public have their say," he said.
Cr John Thain said it was only fair that the re-zoning be put to public exhibition.
"The owners have jumped through every hoop to meet the requirements of the Department of Planning and Council staff, it is time to be fair," he said.
But Mayor Ross Fowler said that not everything that is fair is right.
"I am philosophically opposed to filling in flooded lands. If you were going to do it for this site, it should be looked at for the whole area including Boral, not simply this spot re-zoning that could create adverse impacts on residents," he said.
Cr Fowler, Cr Bratusa and Cr Aitken moved that Council seek further legal advice first, but the motion was defeated.
But the majority of Councillors supported the proposal being put to exhibition with legal advice being sought simultaneously.