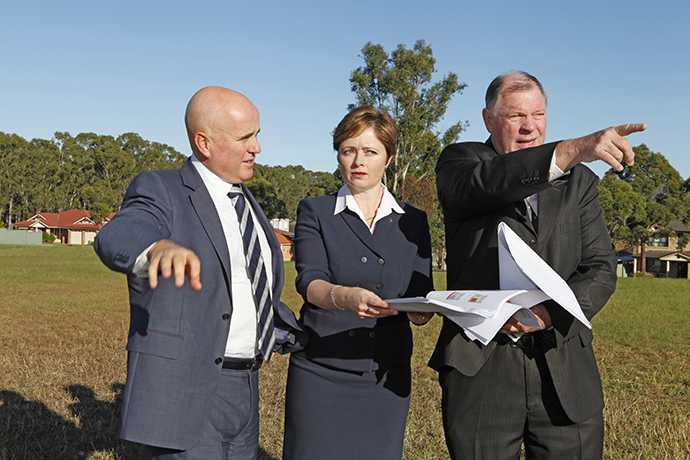 Mulgoa MP Tanya Davies and State Education Minister Adrian Piccoli visited Glenmore Park on Wednesday morning to officially announce that the State Government will fund a brand new public school catering for children with disabilities.
To be located on Ridgetop Drive, the new school will cater for children with both intellectual and physical disabilities.Mrs Davies said that the new school, worth over $10 million, will be purpose built for accessibility including covered walkways, covered outdoor learning areas and a special drop-off area for students and a bus bay."This new school will be an important asset for Glenmore Park and western Sydney," she said.
"The new school will include special education classrooms for 13 to 16 class groups, a library, a multi-purpose space, administration areas and a hydrotherapy pool." It will also include all the latest IT provisions such as Wi-Fi and interactive whiteboards. The site on Ridgetop Drive is also large enough so that in future years when the school requires additional capacity, it can be expanded.
Mrs Davies said the new school meets a local demand in the area, with the closest existing school for disabled children located at Werrington. Minister Piccoli said his government was proud to be making such a significant investment in Glenmore Park in the 2014-15 budget.
"The Government has invested a record $14.4 billion for education, training and early childhood education," he said.
I am delighted that this includes a commitment to construct a new school in the Glenmore Park area catering for students with disabilities."
As part of this year's budget, $8.239 million has also been allocated to continue work on new health and support services facilities at Kingswood TAFE and a further $12 million to further expand the TAFE's facilities.
Mrs Davies said that there are also a number of important infrastructure projects in her Mulgoa electorate that are also being funded this year.
"The State Government has allocated $3.2 million for pavement rebuilding on Mulgoa Road from Glenmore Parkway at Regentville to Notre Dame at Mulgoa," she said.
"There's also $360,000 this year for construction of a pedestrian and cycle bridge adjacent to the Great Western Highway over South Creek at St Marys, as part of a $1.5 million project allocation."