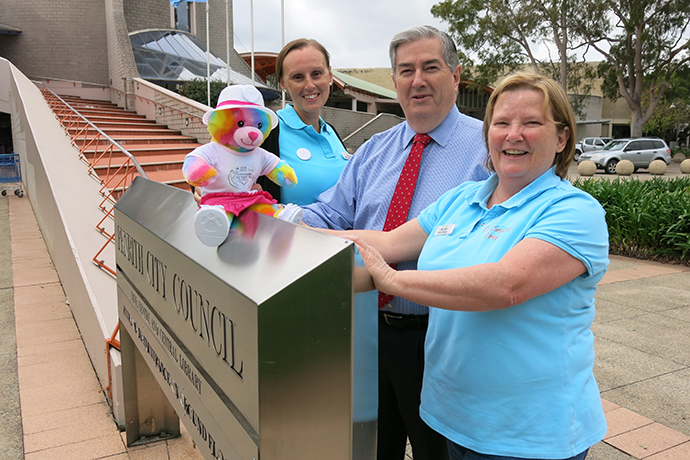 Miss Penny Riff, the colourful Our Community Cares teddy, made her debut in the local community with a short stay at Penrith City Council this week.

In a bid to raise awareness of the recently-launched charity, the rainbow teddy will be passed from business to business over the coming months, staying one or two weeks at each.
Penny was handed over by Our Community Cares founders, Melissa Spurrier and Kris Gauci to the care of Penrith Mayor, Ross Fowler on Friday, June 6 and spent this week sitting in the Council foyer.
"If somebody sees Penny sitting on the counter, they are going to look straight away and wonder who she is and what she is doing and that to us is what we need," Ms Spurrier said.
"We need people to take a flyer, understand what the charity is about and how they can become involved and help their community. We've got a donation box with her but her presence is more about raising awareness of what we do and how we support Penrith's people."
Penny will travel from business to business with a guest book for those who support her to sign and write a message inside.
"This is a good opportunity for businesses to become involved with a local charity and to be seen supporting the local people," Ms Gauci said.
Our Community Cares was registered as a charity last year after the founders, who both have had a large role in other local charities in the past, identified a gap in local support charities and wanted to fill it. The organisation helps to meet the needs of anyone in the community who is sick, elderly or needy.
Our Community Cares will be running their first Market Day on June 22 from 9am at South Creek Park on Charles Hackett Drive, St Marys.