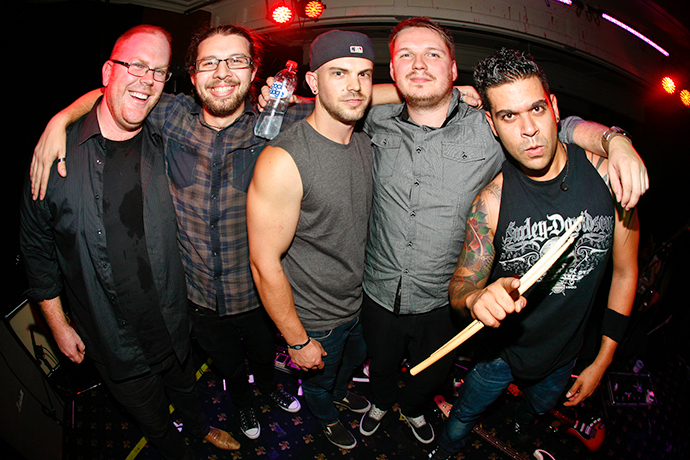 Free live music from a talented local band. Sounds like a pretty good night out really. Well that's exactly what's on offer when Burnside support Vanity Riots at the Tattersalls Hotel on Friday, June 20.

The band formed in late 2009, though band mates Sheldon Wharton and Grant O'Hara – who share vocal and guitar duties – along with guitarist David Rice have been playing together for more than a decade. Rounding out the current lineup is Adam Luck on keyboard and the newest addition to the Burnside family, Felipe Martelo on drums.
Burnside released their debut album 'Evolution' in 2012, gaining a steady stream of Facebook fans from across the world in the process. 'Evolution' is a solid rock album that starts with an epic orchestral opener and covers plenty of musical ground from the ballsy, guitar heavy powerhouse 'Lost the Will' to the beautiful rock ballad 'Will I Find You There'.
Speaking to guitarist David Rice it's clear the guys love bringing their music to local audiences.
"Most of us grew up in the Penrith area so it's great to play a show in front of a room full of your oldest friends. We're supporting Vanity Riots who always put on a massive show so we can't wait to just rock the house down with them," he said.
Though the band's been around for a few years now, things are just getting started for Burnside.
"We're currently in the process of putting concepts together for our first ever video clip for the song "What You've Become" which should be pretty fun. We're also looking into handing over some of our workload to a good management team to help us get the band to the next level and allow us to focus more on the music," Rice said.
Burnside will be supporting Vanity Riots at the Tattersalls Hotel on Friday, June 20. Doors open at 8pm. Entry is free. For more information call 4732 6373 or visit www.tattersallshotelpenrith.com.au.