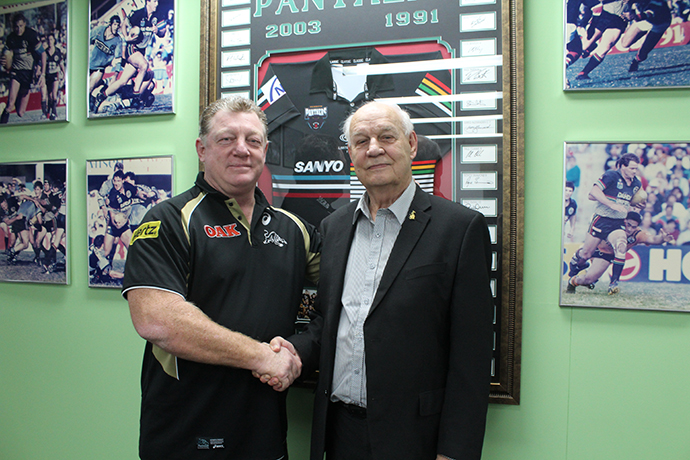 Penrith Panthers stalwarts Don Feltis and Phil Gould have been given Queen's Birthday Honours for their decades of commitment to the NRL.

Mr Feltis has been given a Medal of the Order of Australia (OAM) and Mr Gould has been named a Member of the Order of Australia (AM), though neither were expecting it.
Mr Feltis has been Chairman of the Panthers since 2009, is a life member of NSW Junior Rugby League and of NSW Rugby League and has been the recipient of countless awards including the Australian Sports Medal in 2000.
"I think it's a great achievement for our club (Penrith Panthers) for both Phil and I to be recognised," Mr Feltis said.
"But I dedicate this award to my wife Lyn… as a sportsperson you work long hours, weekends, have to travel all the time and she is just so supportive of me."
Mr Feltis' rugby league career started as a player for Penrith Junior League. He played wherever he was stationed as a police officer, then moved up to player coach in Penrith in 1964, continuing until 1970 when he began to focus solely on coaching. He coached teams in Penrith, St Marys, Richmond and Emu Plains.
He joined the Panthers Organisation full time in 1986, first as administrator of the junior league operation, then in coaching and development and finally as Chief Executive in 1991, when the Panthers won the Winfield Cup.
Of such a long and successful career, Mr Feltis says it is too difficult to choose a favourite memory.
"There's just so many," he said.
"All my time at the juniors, that was 30 years, being Chief Executive of the Panthers in the 1990s, seeing two premierships, they have all been really amazing times."
Mr Gould agrees, and you can understand why – he's one of the most respected NRL commentators, players and coaches of all time.
"It would be unfair to choose a memory because there are so many at great clubs, with great people," he said.
He coached the Panthers to Grand Final appearances for the first time in its history in 1990 and again in 1991, securing the club's historic first-ever premiership in 1991.
He was Coach of the NSW State of Origin team from 1992 to 1996, then again from 2002 to 2004, rewriting the history books as NSW's most successful coach.
"Brad Fitler coming off the field in 2004 of our last match – that's one I do remember well," he said.
"[At the beginning of my football career], I would never, never, never imagined being award an AM.
"My father was awarded one many years ago in the Police Force so it's a big family honour too.
"Don and I owe a lot to Penrith."