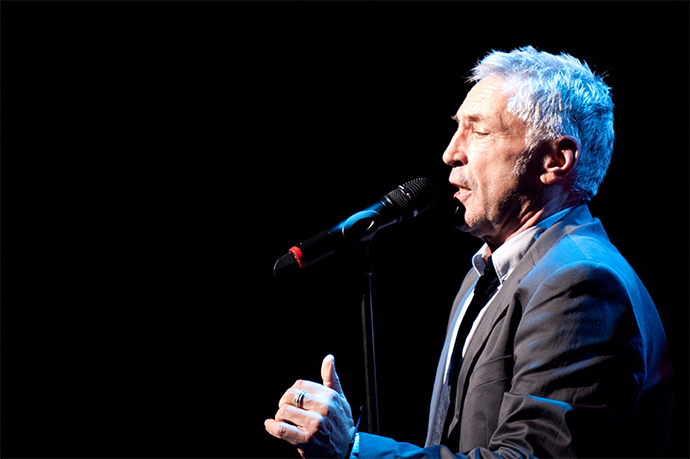 Entertainer John Waters has a very full resume. From TV shows such as 'Offspring', 'All Saints' and 'Play School', to theatre performances in 'The Addams Family' and 'The Sound of Music', to film roles including 'Breaker Morant'. But through all that there has been one project that Waters has kept coming back to; 'Looking Through a Glass Onion'.

For 22 years Waters has been performing a tribute to the life of John Lennon but it's not a cover act.
"I didn't want to do a show that was like an Elvis impersonator so I invented a theatrical piece for two men, myself and Stewart D'Arrietta who plays piano and I play acoustic guitar. Between the two of us we play either all or in part about 30 something John Lennon songs, both Beatles and Lennon's solo career, and I intersperse with a monologue," Waters said.
So what is it about 'Looking Through a Glass Onion' that has led to Waters performing the show for more than two decades?
"Its great because I can maintain a very varied working life doing film and television and then constantly coming back after a few years break to this show and whenever I come back to it I realise I've missed it. It's a part of me now, its an integral part of my career," he said.
Waters originally created and performed 'Looking Through a Glass Onion' in 1992 at the Tilbury Hotel in Woolloomooloo and on Friday, June 13 audiences will have the chance to see it at the Evan Theatre.
"It's a dark, still show and it's got lots of funny bits because Lennon was a funny talker," he said.
Playing in clubs is a particularly enjoyable experience for Waters, who admits that audiences tend to be surprised by the experience.
"They get taken on a real journey and by the end they are absolutely into it," he said.
"Theatre audiences are expecting theatre, but a club audience isn't really expecting theatre, but that's kind of what they get so it's a bonus."
With 'Looking Through a Glass Onion' lasting for so many years it isn't surprising that the performance has evolved. Though Waters admits there's only been a few small changes since that very first show.
"The show hasn't changed radically. I have swapped a song here and there and tweaked the words of the monologue a little bit, but its only been a tiny bit. I think I was lucky when I first put this thing together and I just got the format right and it's mostly been a case of, if it ain't broke, don't fix it," he said.
"However I've thought to myself sometimes, you know what, I think that would sound better if I put it this way and I swapped a couple of words around or whatever."
After performing the show to audiences across Australia, along with a stint in London, Waters has now had the green light from Yoko Ono to take the show to New York City. And all it took was 20 years of lobbying.
"I'm about doing something that compliments what he stood for and she realises that this is a good show, but twenty years ago she had plans of her own for stuff in New York which she didn't want anything to clash with. But now further on down the track we sent the latest DVD of this particular version of the show and we got the word back about four weeks ago that we can do it in New York and that's something that we've been hanging out for so we're really, really very excited," Waters said.
The show will be performed off Broadway in a 300 seat theatre. Waters admits it's more about the experience than anything else.
"My big ambition is to play the show in New York whether its successful or just mildly successful or whether it fails to find an audience. I'll be happy just to have done it," he said.
Though he does have reason to believe audiences will be interested in the show's subject matter.
"I think it will find an audience in New York because that became John Lennon's town more so even than Liverpool really," Waters said.
With a long career in TV under his belt you would think it would be hard to choose which show was the most rewarding, but Waters admits that it's his most recent role as Darcy Proudman in the hit 'Offspring' that sits at the top of the list.
"It's been my most treasured experience in series TV," Waters said.
He identifies the beautiful scriptwriting, a great cast and an interesting storyline as the reasons why working on 'Offspring' has been such a pleasure.
"I think the whole of 'Offspring' is, it's a heightened reality of life, but its all based on truth, everybody can relate to the things that Nina goes through, her ineptitude with her love life but she's very good at her professional life, and all that kind of stuff. It's great," Waters said.
John Waters will be performing in Looking Through a Glass Onion at Evan Theatre on Friday, June 13. Tickets are $47. For bookings or more information, call (02) 4720 5555 or visit www.penrith.panthers.com.au/entertainment.