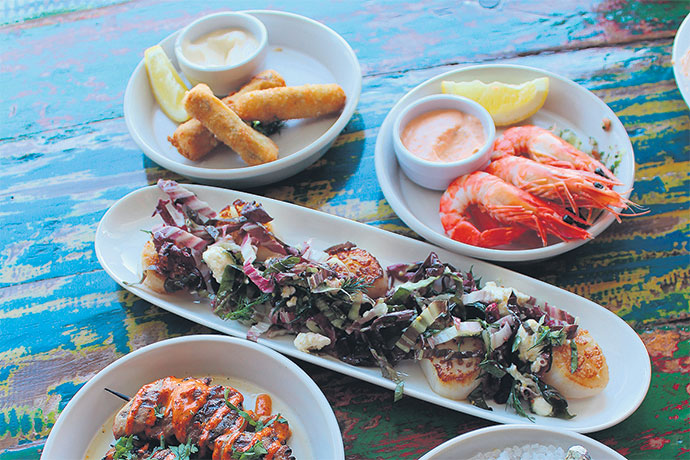 Hank's Seafood is the perfect dining experience for those looking for delicious seafood in the Penrith area.

Located in the Panthers complex, Hanks will make you feel like you're right by the seaside with brightly coloured weathered shutters hanging from the walls, marine inspired paraphernalia and an outdoor dining area with pontoons overlooking the water.
The menu's entree and starter options include Hank's seafood chowder, chimmichurri prawns, and salt and pepper squid with quinoa, avocado, parsley, pomegranate, crisp eschallot and spiced yoghurt.
For mains, seafood lovers will find it hard to go past Hank's seafood platter. The platter includes king prawns, full lobster mornay, natural oysters, smoked salmon and blue swimmer crab, as well as several other seafood favourites.
The menu does change seasonally to ensure the freshest produce, so you know you'll be getting only the best seafood.
Along with the platters comes options like the whole fish of the day, spaghetti with prawns, garlic, chilli, grape tomatoes and olive oil and the pot of mussels served with crusty bread and your choice of tomato based or white wine cream sauce.
Not a huge fan of seafood? You'll still find plenty of tasty options with a selection of burgers including Hank's beef burger and wagyu rump steak with cabbage and onion rosti, onion rings and red wine sauce.
After dinner you'll probably want something sweet, so why not grab a delicious dessert? The options are certainly droolworthy with the bucket of doughnuts offering a selection of mini doughnuts in cardamon sugar with Elderflower custard. Or try the Knickerbocka Glory; a selection of ice cream, fruit puree, fresh fruit, marshmallow, nougat, vanilla cream and chocolate sauce – this is one you'll need to share with a friend.
Hank's Seafood is the perfect place to spend time with a few friends and enjoy good food in a relaxed atmosphere. And really, what could be better than that?
Hank's Seafood is located in the Panthers complex at 123 Mulgoa Road. For bookings or more information, call 02 4720 5652 or visit www.hanks.net.au.