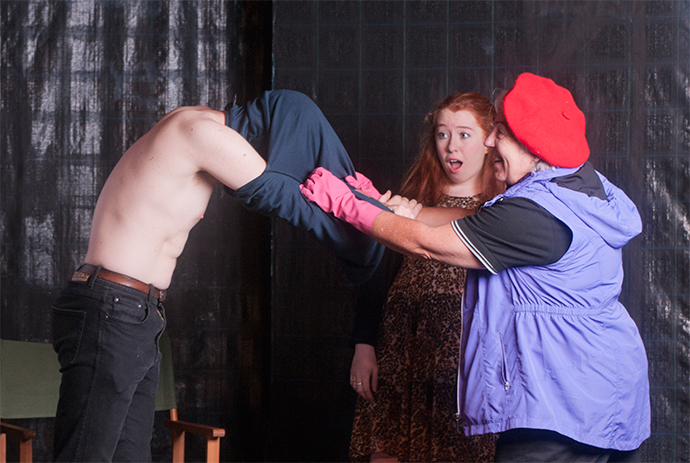 Audiences will go on an entertaining emotional rollercoaster when Glenbrook Players Club brings 'Laughter and Longing' to the stage.

The show, which is a collection of short plays, is the latest production from the theatre company, and will be performed at Glenbrook Community Theatre between Friday, May 9 and Saturday, May 17.
Two of the works, 'Small Steps' and 'The Colour Red', written by local Australian writer Gavin Austin and directed by Costa Karagounis have a more serious and thoughtful tone that contrasts with the other lighter plays.
'Small Steps' is a monologue starring Margaret Bell, who plays Rose, a middle aged widow who is musing about how much her life has changed on a late, sleepless night.
Rose has left her old home in the country behind to start fresh in the city with a new partner, but struggles over whether her decision is the right one in the haunting, lyrical short play.
Austin's other work, 'The Colour Red', is a short vignette that presents a conversation in a coffee shop between two women who are strangers but have agreed to meet by arrangement to discuss a mutual connection.
Although the first two plays have a somber feel, the 'laughter' referenced in the show's title comes from the other three works.
'Three Chairs', written by Roger Gimblett and directed by Dot Ward, is a comedic play that focuses on the dramas newlyweds Tom and Patty have as they try to establish their home and life together without relying on handouts from Tom's rich yet snobby mother.
The family tensions escalates when one afternoon, Tom's parents arrive unannounced and the young couple find themselves getting involved in their problems.
The show takes a hilarious turn with Laurie Wylie's 'Dinner for One', directed by Anita Nau-Kleinmann, which tells the story of Miss Sophie and her 90th birthday party.
Sophie has invited all her old friends but sadly, she has outlived everyone in her social circle, leaving her loyal butler James stuck with the task of impersonating each guest to avoid disappointing his boss.
'Laughter and Longing' ends on a dark note with Brian Fisk's black comedy 'Strawberry Jam', centered on two sisters whose elderly father's death is perceived as an inconvenience in their lives.
The work will be staged as a radio play, and has also recently been performed with success at Blaxland Library for Seniors Week.
'Laughter and Longing' will be held at Glenbrook Community Theatre for six shows between Friday, May 9 and Saturday, May 17. Tickets are $22-$25. For bookings or more information, call 4739 1110 or visit www.glenbrookplayers.com.au.