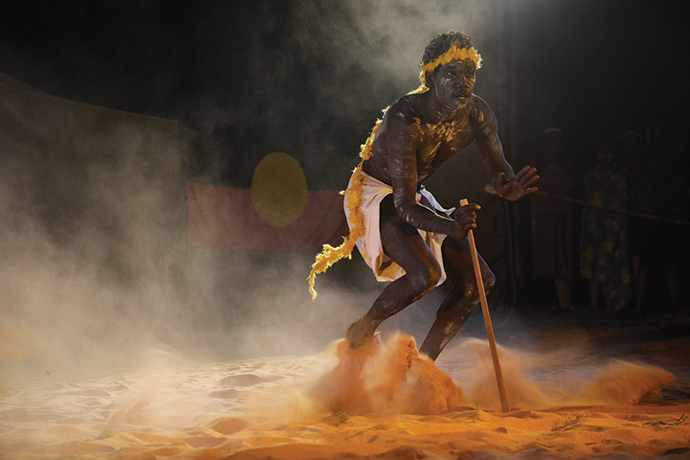 Djuki Mala, also known as the Chooky Dancers, have performed worldwide and are now on their way to Penrith for three shows as part of a national tour. Their performance combines traditional Aboriginal dance with more contemporary forms, along with a good dose of humour.

For over ten years they have worked with Josh Bond, producer and director, to bring a unique twist to popular dance styles including everything from Bollywood to Hip-Hop. Djuki Mala became a hit after going viral on Youtube in 2007 with their interpretation of Zorba the Greek. After 3 months the clip had reached half a million views, with the current viewings at over two million.
Though their performance has become a hit with online viewers, there is more to the Djuki Mala story than just a viral clip. The ensemble of young Yolngu men come from the Galiwin'ku community (Elcho Island) in North East Arnhem Land and have performed throughout Australia along with appearances in China and Taiwan.
Their show involves skill and discipline, incorporating traditional costumes and ochre, along with Galpu (spear throwing).
The new name, Djuki Mala, came about in 2013 as a way of keeping the meaning of the 'Chooky Dancers' while still reflecting the cultural background of the group members.
This is a show that will provide audiences with a blend of traditional and popular culture along with a good dose of laughter. The reception from audiences and critics alike has been positive, with Djuki Mala delivering an energetic and heart warming performance. So why not head down to the Joan and enjoy something a little different.
Djuki Mala will be performing at the Joan Sutherland Performing Arts Centre on Friday, May 23rd at 8pm and Saturday, May 24 at 2pm and 8pm. Tickets are $25-$35. For bookings or more information, call 4723 7600 or visit www.jspac.com.au.