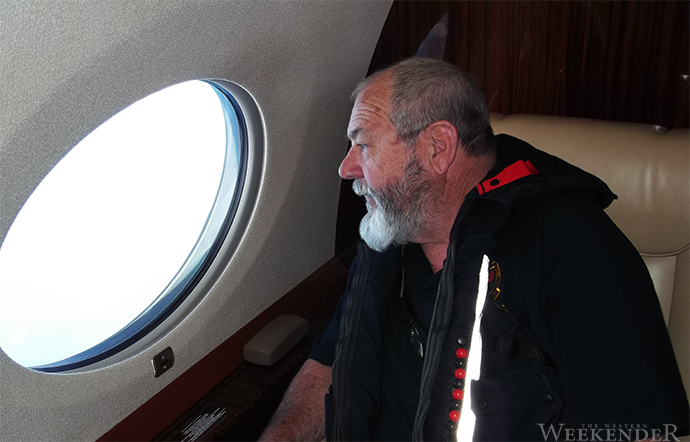 The search for missing flight Malaysia Airlines MH370 has been arduous, emotional and exhausting but one local State Emergency Services (SES) volunteer was prepared and willing to help.

John Vickers, operations officer for Penrith SES, received a call on Friday, April 4, asking if he would be willing to help the search efforts in Perth, Western Australia.
He gladly accepted the invitation as he knew the search effort could benefit from his skills.
"Three years ago I actually did a course to become an air observer and just recently I had refreshed my course as I had not been on a flight mission," he explained.
"Because I had recently refreshed my skills though, I was asked to help out and so I flew to Penrith on Sunday (April 6)."
Mr Vickers, a retired military man, for the next three days was on standby to help the search effort.
"On the Monday we didn't go out to the search area as the conditions were not great, but on Tuesday we were flown out on a global express jet with Western Australian SES air observers and an Australian Maritime Safety Authority team leader," he said.
"We had been briefed on what to look for; life jackets, debris, dinghys, rafts, oil slicks, plane seats.
"We were flying at about 1,000 feet and doing what we called 'legs', stretches of about 100 kilometres. It would take us about 30 minutes, then we would turn around – which was our three minute break and we would often change seats – and then fly back again a little further over."
Even though the planes were comfortable, acting as an observer is incredibly strenuous work.
"There's three of you on each side and your eyes do become very tired constantly looking at the ocean, and becuase you are flying low to the ground you need to have your life jacket on," Mr Vickers said.
"Occasionally you might spot something that you get the others to look at but we didn't find anything. On the first day of searching we only saw a few buoys and search ships and on the second day the same."
Mr Vickers said it was particularly tiring as it would take between two and three hours just to fly to the search area 2,000km from the Perth coast, before spending the next five hours searching for signs of the plane.
After flying back to Sydney on Thursday, April 10, Mr Vickers said that search was certainly an interesting experience.
"I've been with the SES for 16 years and I have helped out with many different events… this was certainly interesting though," he said.
Mr Vickers has helped with numerous flood rescue efforts all over the country including coordinating helicopters in the floods at Grafton and in Queensland.