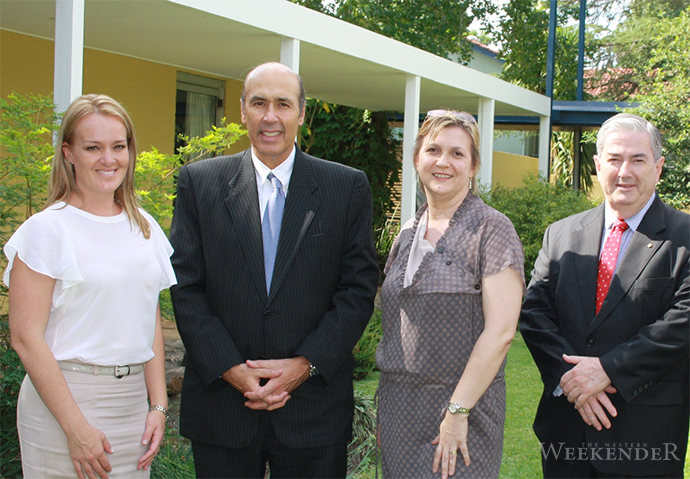 Penrith Mayor Ross Fowler has welcomed US Consul General Hugo Llorens to the local area.

Mr Llorens, who was the guest of Federal Member for Lindsay Fiona Scott, is a 32 year veteran of the U.S Foreign Service and has a strong interest in local economic development.
Councillor Fowler said: "This visit recognises Penrith's status as a leading city within Greater Sydney."
While Mr Llorens was here, Councillor Fowler hosted a meeting at the Penrith Regional Gallery. Penrith City Council officers briefed Mr Llorens on Penrith's geographic, social and economic context, the city's aspirations and its plans for the future.
CEO of Penrith Performing and Visual Arts Ltd Hania Radvan explained the City's innovative approach to fostering cultural development.
He also toured the Joan Sutherland Performing Arts Centre.
Mr Llorens visited Penrith Lakes for a briefing on the history and future of the quarry site and toured the International Regatta Centre and Penrith Whitewater Stadium.
The tour of Penrith Lakes concluded with a presentation by Environment and Heritage Manager of Penrith Lakes Development Corporation Dani Robinson, who provided an overview of the Lakes Scheme and the Muru Mittigar Aboriginal Cultural Centre.
Councillor Fowler gratefully acknowledged the initiative of Ms Scott in hosting the visit. Mr Llorens is a career diplomat who took up his appointment in October 2013.
"This tour provided Mr Llorens with a taste of the city's diverse strengths, as well as our stunning geographical setting and our major world-standard event venues," Cr Fowler said.