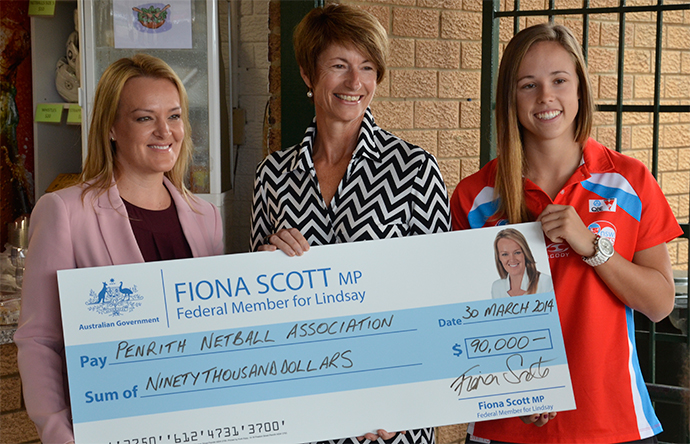 Margie Abbott visited Jamison Park Netball Complex for the Penrith Junior Representative Carnival on Sunday with Lindsay MP Fiona Scott.

Mrs Abbott, a keen supporter of Netball, is the Australian Ambassador for the 2015 Netball World Cup.
Ms Scott and Ms Abbott officially opened the refurbished canteen which was made possible courtesy of a $90,000 Federal Government Community Development Grant.
"Grassroots sport is an integral part of our community's DNA, and I'm very pleased to have been able to assist in delivering this important investment to the local netball community," Ms Scott said.
"This is just the first upgrade to the netball facilities in Jamison Park. Designs are currently being developed for the installation of a shade awning which is another key part of our commitment and is expected to be delivered later this year.
"I congratulate Penrith City Council and Jamison Park Netball Complex Committee for their commitment which includes an additional $60,000 to the funding package.
"The improvements to the infrastructure again highlights the Federal Coalition Government honouring of its election commitments and delivering for the people of Lindsay and Western Sydney.
Mrs Abbott said she was excited to see so many netball teams benefit from the upgrade.
"Apart from providing the all-important sustenance throughout a busy day at the netball courts, this improved canteen will contribute towards the continued financial viability of the local Penrith Netball Association," she said.
The refurbished canteen includes:
• Stainless steel work benches
• Wall tiling
• A new exhaust fan
• Double sink and single hand washing sink
• Decommissioning of an old toilet area
• Infilling of brick work
• Electrical and drainage upgrades
• Installation of hot water service; and
• Painting
The opening of the new canteen coincided with the Penrith Netball Festival where 156 teams from right across Sydney competed.