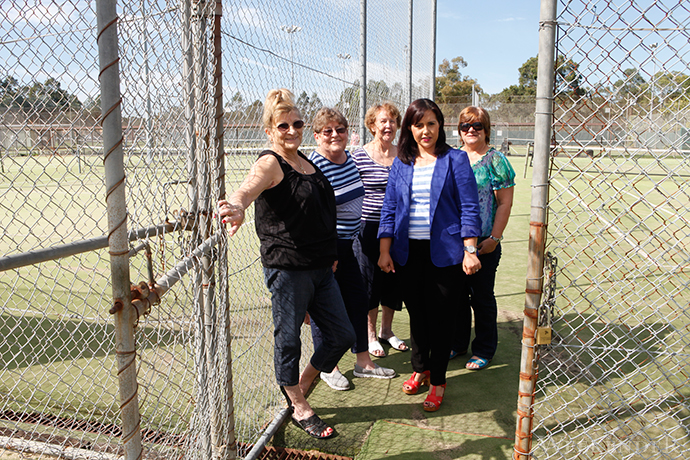 For the majority of the week, St Marys tennis courts near Blair Oval are locked up and unused.

But Oxley Park resident Judy Ward says that she would like to see the "forgotten courts" spruced up so that the community can access them more readily.
"Once the tennis club there didn't renew the lease and Penrith Council was left to manage the courts themselves, St Marys tennis courts have become forgotten," Ms Ward said.
"I play tennis with a group of six ladies, we used to have 18, but apart from us and one or two other groups who use the courts of an evening, there isn't really anyone here."
Ms Ward is 73-years-old and has been playing tennis since she was six. For the last 14 years she has played at St Marys and so knows the courts and the game well.
"There are less people playing because everyone is now focused on the Penrith complex, " she said.
"There was a coach for the kids down here but he moved to Penrith and with no-one here at the facility, unless you plan ahead to book in for a game, you cannot simply come down for a bit of social fun.
"For too long St Marys has been the poorer cousin of Penrith, but what about the families who are local who might want to play?"
Ms Ward and her tennis group play Friday mornings and unlock the centre, turn on the hot water for their cups of tea and then lock up again afterwards.
Miniature doctors, builders and a couple of princesses made their way to Londonderry Long Day Care last week to raise awareness and funds for kids living with cancer.
Each child who attended the local preschool on Friday, February 28, dressed up as 'what they want to be when they grow up', in support of the inaugural 'I Want 2 Be' Day.
I Want 2 Be Day raises awareness of childhood cancer and funds for the Kids' Cancer Project, which supports research to find a cure.
"We do a lot of theme days each year to get the kids involved in fun and worthwhile events. This was one we hadn't heard of before and we thought it would be a good cause to support," said Kim Rayner of Londonderry Long Day Care.
"We try to support anything to do with children. We had quite a few doctors, a builder and a truck driver and a couple of princesses of course. We also had a police officer and a couple of cowboys."
Thousands across the country joined in dressing up on the day.