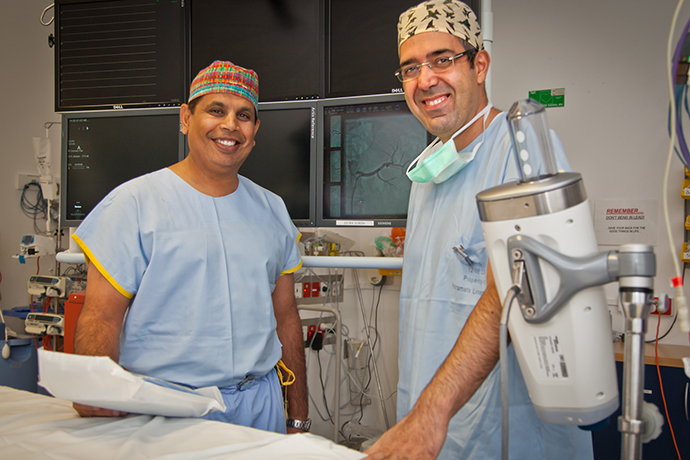 An innovative procedure being performed at Nepean Hospital is changing the lives of people living with high blood pressure, who are resistant to medications, and may reduce their risk of heart failure.

The 'renal denervation' procedure involves applying heat, through a catheter, to multiple places inside each renal artery to disrupt sympathetic nerves running on the surface of the artery, which results in a rapid lowering of a patient's blood pressure.
Nepean Hospital has been funded for 20 procedures, with five having already been completed, with great results, by two cardiologists with special training, Dr Hisham Hallani and Dr Clyne Fernandes.
"In 80 per cent of cases the patient's blood pressure comes down within 30 days of the procedure and continues to do so for the first six months before it stabilises," Dr Hallani said.
If successful, the procedure allows the patient to eventually live a normal life and Dr Hallani says it also has the potential to help reduce the risk of heart failure in patients, although this conclusion is still being researched.
Unfortunately, not all people with high blood pressure are eligible.
"The procedure is limited to people with difficult to control hypertension with systolic blood pressure where high blood pressure medication is not working effectively – this affects around 5-10 per cent of people," Dr Hallani said.
"Some patients have two renal arteries or can have blockages or simply the wrong size artery. Those who have hypertension as a result of disease are also excluded."
The procedure is also carried out at Westmead, St George and Prince of Wales hospitals but is remains only in the early stages.