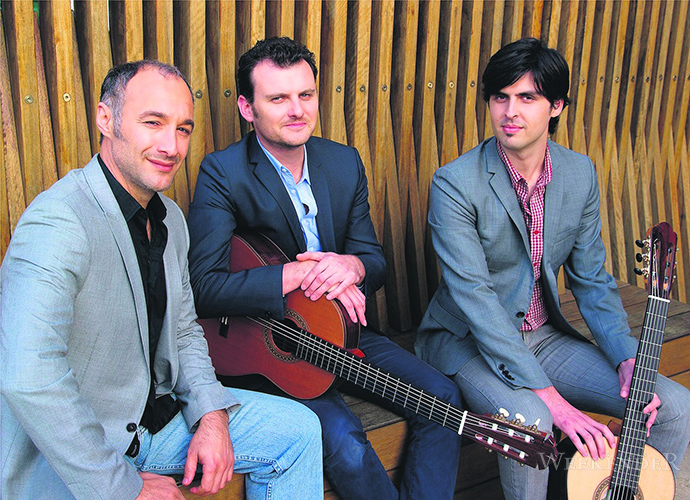 A trio of talented musicians led by internationally acclaimed baritone José Carbó are set to bring beautiful Latin music to the stage.

Carbó will be joined by classical guitarists Slava and Leonard Grigoryan to present 'My Latin Heart' at the Joan Sutherland Performing Arts Centre on Wednesday, February 26.
The evening promises to deliver world class Latin sounds, with sumptuous song, stunning stings and tantalising tango setting a passionate mood.
This will be the first Sydney performance of 'My Latin Heart', after its world premiere at the 2013 Adelaide Cabaret Festival and a sold out show at the Melbourne Recital Hall.
The concert will feature a live performance of Latin American songs from Carbó's 2012 album 'My Latin Heart', which was number one on the Limelight Classical Music Charts in 2012 and received an ARIA Award nomination for Classical Record of the Year.
Along with the Grigoryans, Carbó will play the songs his grandfather Donato passed down to him in Argentina as well as soulful classics such as Lara's 'Granada', Piazzolla's 'Ave Maria' and 'Oblivion'.
They will also perform brilliant tangos including 'Caminito', 'Mi Buenos Aires Querido' and 'Adiós'.
With a set list full of songs that capture the heat and passion of Latin America, the concert will take audiences on a musical journey to Buenos Aires.
Born in Argentina with Spanish and Italian heritage, Carbó has always had a strong connection with Latin American culture, and began studying music in Rome in his youth.
He made his European debut at the Teatro dell' Opera di Roma in Italy, and now performs regularly with Opera Australia and other major orchestras.
With the close working relationship between the three performers, Carbó said he was looking forward to presenting the show.
"We spent so long together working on the songs before we went into the studio to record them… the three of us have a great simpatico. Sitting down together in front of an audience to perform these songs that we all love is going to be extremely satisfying," he said.
'My Latin Heart' will be held at the Joan Sutherland Performing Arts Centre on Wednesday, February 26 at 8pm.
Tickets range from $40-$49.
For bookings or more information about the show, call 4723 7600 or visit www.jspac.com.au.