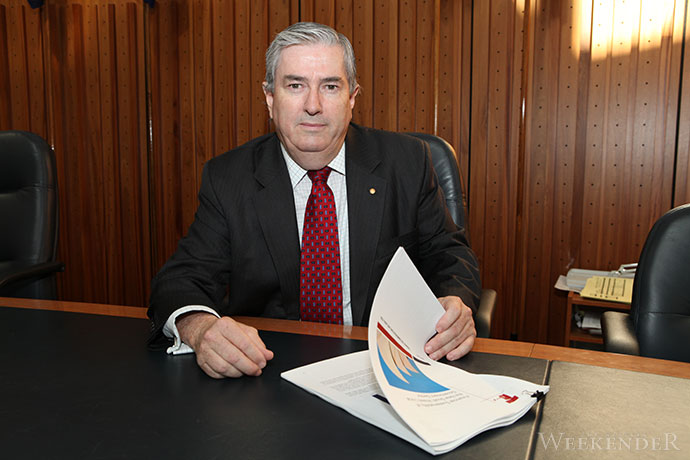 A review of local government has recommended that Mayors be popularly elected and Councils be given greater flexibility to set rates, but failed to address key concerns about Council borders.
The Independent Local Government Review Panel released its final report last week, making a number of controversial recommendations to improve the efficiency and accountability of NSW councils.
Among the findings was a need to introduce popular elections of mayors, but Penrith Mayor, Ross Fowler, doesn't believe Penrith's voting system should be changed.
Currently the Mayor and Deputy Mayor are elected by their fellow councillors.
"Council currently does not support the popular election of Mayors, as it is possible for a situation to arise, which has happened in other council areas, where the Mayor does not have the support of fellow Councillors," Cr Fowler said.
"However I believe there would be support for the mayoral term to be longer than 12 months."
The issue of Council amalgamations is addressed in the report, however, Cr Fowler says that Penrith Council's concerns about boundary changes are not addressed.
"The review represented an opportunity for bolder recommendations, however, the reports fail to delve into more complex issues such as Council boundary changes," Cr Fowler said.
"The reports fails to address Penrith's interests in reviewing the borders with adjoining Councils, [and] the opportunity to have the Western Sydney Employment Area, which includes the Badgerys Creek proposed airport site, under the control of the one Local Government Authority has not been canvassed."
Of interest to residents is the recommendation that Councils have greater flexibility in setting their rates.
Currently, rate increases are determined by the Independent Pricing and Regulatory Tribunal (IPART) and applications can be made for special rate variations.
It is proposed that IPART would still set the base rate increase but that Councils could increase rates a further five per cent to address infrastructure needs.
According to the report, "This would result in a total increase for the average residential ratepayer of around $1.70 per week, which is well within the range of affordable and acceptable increases".
Cr Fowler said that Councils should be afforded the responsibility of setting their own rates, which is successfully done without red tape regulation in other states.
"I do not support rate pegging. Having gone through a consultative process with the community a Council should be able to set its rates, with the appropriate checks and balances in place to ensure money and resources are used effectively in accordance with community expectations," he said.
Submissions on the recommendations are due at the beginning of March, however, Penrith City Council will request a time extension until the end of April to properly consider the report's implications.