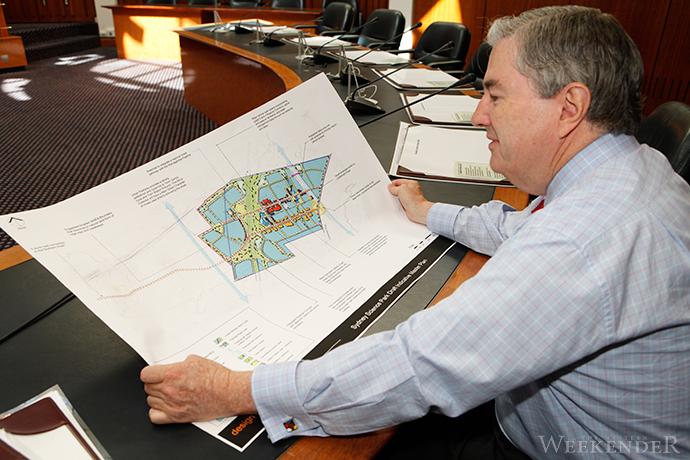 In what has been described as the "most exciting project" in Penrith this year, the Baiada family group of companies is seeking to invest millions of dollars into a Science Park at Luddenham.

E.J Cooper and Son (EJC), a branch of the Baiada group, is one of Australia's largest privately owned companies with an annual turnover of $2 billion. Just some of their brands include Steggles and Lilydale Select Free Range Chicken.
EJC have been in preliminary discussions with Penrith City Council to build a 250 hectare Sydney Science Park on Luddenham Road, Luddenham to accommodate the new Baiada National Headquarters, Baiada National Food Science Laboratories and Research Facility and University of Sydney Poultry Research Foundation.
"The Science Park would become a leading international centre for research and development in the fields of food, energy and health. This means high quality job opportunities for Penrith residents as well as significant investment in the LGA by major industry leaders," said a Science Park project spokesperson.
"In the coming months we hope to work closely with Council and the community to deliver this vision for a world-class Science Park in the heart of western Sydney."
Mayor Ross Fowler said this is one of the most exciting projects for the city this year and the potential is enormous.
"They are talking about creating 10,000 jobs, which is a huge project and boost for Penrith. It is a huge vote of confidence in Council and a huge vote of confidence in western Sydney and will greatly complement the work already being done with the Penrith Health and Education Precinct," Cr Fowler said.
Development applications for the rezoning of the Luddenham block are expected to be submitted within days.
The Department of Planning is in the process of establishing a committee of the major service providers to assess the major infrastructure requirements and the delivery of the proposal.