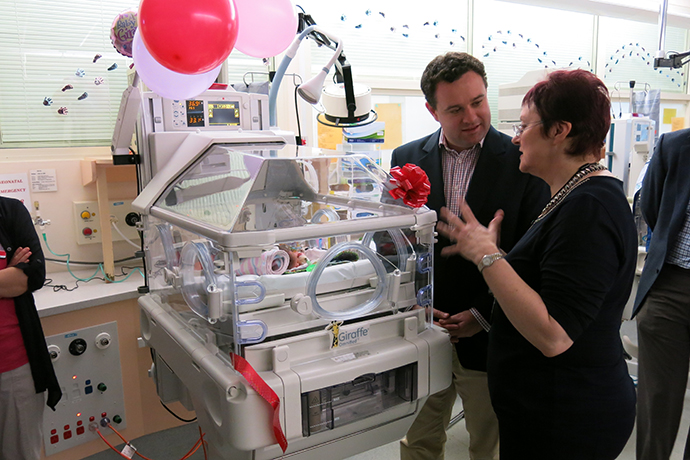 The addition of a new cot to the Nepean Hospital Neonatal Intensive Care Unit (NICU) is already giving pre-term babies on the brink of life and death the opportunity to have the best possible care in their first few weeks of life.

The $465,000 neonatal cot, also called a humidicrib, arrived with all the equipment and staff needed to sustain life in a baby born from as little as 23-weeks of gestation.
As soon as the cot was ready to go, there was an immediate need for its use.
"Since the NICU first opened here in 1991 we have steadily grown. We opened with one ventilator cot and we have gradually increased to our now, number 11," said NICU Director, Dr Lyn Downe.
"Hopefully we will continue to grow because there is certainly the demand there."
With the unit currently boasting 11 neonatal cots, Nepean is now one of the largest NICUs in the state.
Sarah, John and Sophia McKid are nine-week-old triplets, who were born 13 weeks premature at Nepean Hospital and are still being cared for in the NICU.
It was only by a miracle, and the help of quick thinking staff, that kept these three together when they were all in need of a neonatal cot – often, if there are not enough available beds, families have to be split up between hospitals across the state.
"I was stressed out, going through labour and contractions thinking: I am going to wake up and my babies are going to be spread everywhere and am not going to be able to see them," said mum, Elizabeth.
"We got to stay together as a family but at the time they only had ten beds, with three babies at once, most of their beds are taken up. They need all the beds they can get."
Member for Penrith, Stuart Ayres joined staff at the NICU on Friday, November 22, to celebrate the arrival of the new cot.
"I will squeeze every ounce of blood out of every government stone I can find to make sure that little babies who are born in this hospital get every opportunity in life," Mr Ayres said.