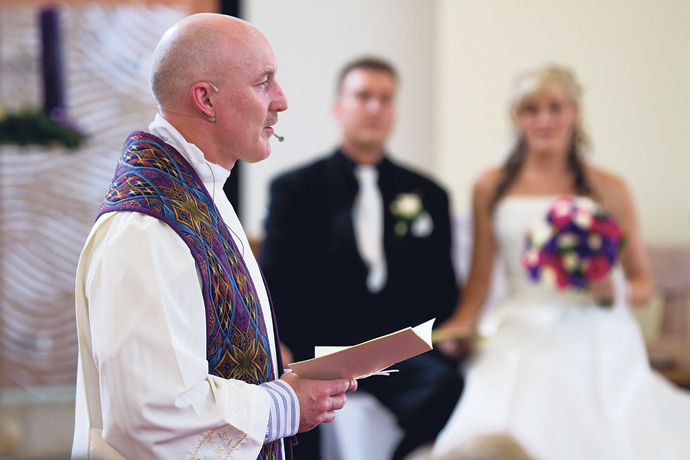 Kevin Lee, the former Catholic Priest who created a storm when he revealed he was secretly married, has been tragically killed in a typhoon in the Philippines.
Typhoon Haiyan has become a full scale emergency with the death toll likely to be in the tens of thousands.
Mr Lee, a former Western Weekender columnist, was last year removed from his parish responsibilities at Glenmore Park after his secret marriage was revealed.
"I've fallen in love and I've got married and it's outside of most people's awareness," he told Seven News last year.
"I'm sure my family is going to be very deeply disappointed about these revelations.
"That's one of the reasons that motivated me to make public my admission, that I'm one of those people who's been a pretender… to draw the attention of the public that there are more like me, in fact most of them."
A whistleblower about child sexual abuse in the Catholic church, it is understood Mr Lee had been living in the Philippines with his wife and young child.
There was confirmation late on Sunday that a 50-year-old Australian man, believed to be Mr Lee, had drowned in Typhoon Haiyan.
The Department of Foreign Affairs has been in touch with Mr Lee's family to offer assistance.
As late as last week, Mr Lee was still writing blogs and posting on Twitter in his mission to expose child sexual abuse within the church.
Minister for Foreign Affairs Julie Bishop yesterday said the Australian Government will provide an initial $390,500 in emergency relief supplies to assist communities in the Philippines devastated by Typhoon Haiyan.
"Australia, as a close friend of the Philippines, is saddened by the loss of life and damage to homes and property in the wake of this tragedy," Ms Bishop said.
"We're immediately providing pre-positioned emergency supplies, including sleeping mats, blankets, mosquito nets, water containers and health and hygiene kits for families devastated by the typhoon.
"Two Australian disaster experts are already on the ground assisting the Philippine Government and the United Nations to conduct a rapid needs assessment in those areas worst affected.
"However, we will work closely with our partners, including the Philippine Government, to obtain more information on the impact of the typhoon, and we stand ready to provide further assistance if required.
"We would also like to recognise the significant efforts of the Philippine authorities in assisting communities to prepare for the typhoon."