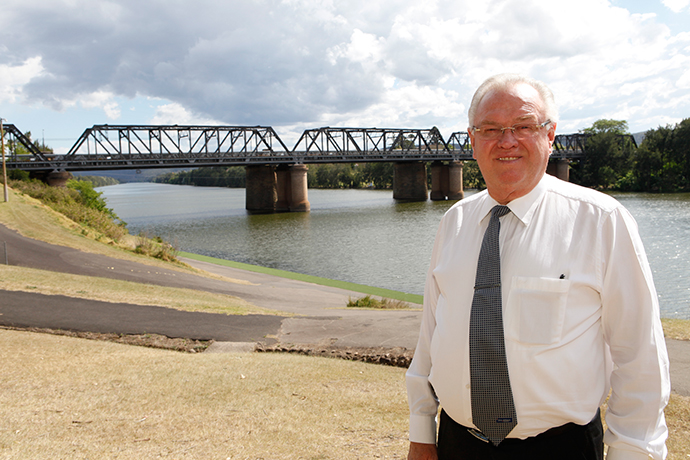 Deputy Mayor Jim Aitken says Penrith Council needs to have a good look at Emu Plains to solve the traffic issues marring local residents and businesses.

He says with financial commitments from both the State and Federal Governments to major infrastructure projects affecting Emu Plains and the west of the Penrith CBD, a broader approach to the area needs to be taken.
"We have money for the walkway next to Victoria Bridge and we have money promised for the Jane Street extension. In doing these projects we are missing a great opportunity to fix the traffic congestion along the Bridge and Great Western Highway," he said.
"I know it is opening a can of worms, but I wouldn't be representing my constituents if I didn't at least start a discussion. I have had seven emails about the issue and I think there are some valid points raised.
"If you say that 300 people use the bridge to bridge walk per day, you would probably be right, so can we justify spending [in excess of $20 million] on a walkway when there are traffic concerns with the bridge that are far greater?"
The masterplan for the Nepean River Precinct is edging closer to completion, and Cr Aitken believes that if the river is to be utilised as suggested in the masterplan, that access to the river, on both sides, is pivotal.
"Then there is the issue that the State Government is saying it supports jobs, yet takes away the car parking for residents to visit the local Emu Plains shops. We just recently lost the cheesecake shop," he said.
"There is nowhere for people to park their cars and visit the stores so they are closing. We need a coordinated approach to looking at these issues affecting Emu Plains because it is an historic and important part of Penrith."
Cr Aitken said that if local residents have ideas about the Jane Street extension or Nepean River Green Bridge, that they can email him at [email protected]