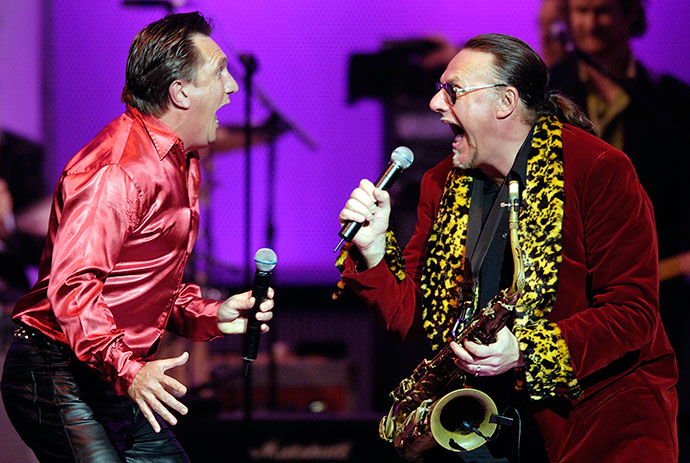 While Frankie J Holden and Wilbur Wilde may have first hit the charts forty years ago, they're set to prove that they've still got what it takes to get a crowd going.

The rock musicians, who first performed together in the multi-platinum Australian band Ol' 55, will be reunited on stage to play all their greatest hits at Rooty Hill RSL on Friday, September 20.
Enjoying their heyday in the 1970's, Ol' 55 were a popular band that played classic, retro rock and roll music, with their songs bringing a feel of 50's nostalgia to listeners.
The charismatic Holden was the vocalist and fronted the band, while Wilde was the saxophonist.
Their debut album 'Take It Greasy' was released in 1976 and peaked at number two on the charts, and the band went on to make seven more albums.
With a quirky, retro style and a catchy pop-rock sound, Ol' 55 had a string of original songs including 'On the Prowl', 'Skateboard Thrills', '(Feels Like A) Summer's Night', 'Time to Rock n' Roll', 'Stay (While the Night is Young)' and 'Let's Do It'.
Other singles they released were covers of popular songs such as Paul Anka's 'Diana', Dion and the Belmonts' 'Why Must I Be a Teenager in Love?', Kenny Vance's 'Looking for an Echo', and The Spaniels' 'Goodnite, Sweetheart, Goodnite'.
After both Holden and Wilde left the band in the late 70's, they embarked upon different directions in the entertainment industry.
Holden released a debut solo single, 'My Right of Way', while Wilde joined Jo Jo Zep and the Falcons.
They also each found fame on the small screen, with Holden showing off his acting skills in a range of television dramas including 'Prisoner', 'Round the Twist', 'Police Rescue' and 'Something in the Air, as well as presenting the variety show 'In Melbourne Tonight'.
Wilde used his musical talents as part of the house band on the beloved show 'Hey Hey It's Saturday', and also appeared in other programs including 'Getaway', 'The Flying Doctors', 'Spicks and Specks' and 'Sale of the Century'.
Despite the success both Holden and Wilde have enjoyed in the television industry, they have returned to their beginnings and are ready to light up the stage again.
Frankie J Holden and Wilbur Wilde will perform at Rooty Hill RSL on Saturday, September 20 at 8pm. Tickets are $30. For bookings or more information, call 9625 5500 or visit www.rootyhillrsl.com.au.