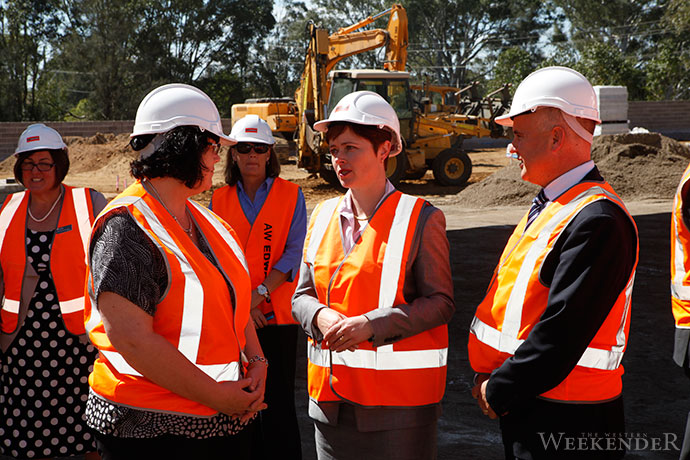 Kurrambee School is well on its way to completion in December, with buildings and play areas quickly taking shape.

The Werrington based school is being relocated across the road to a new facility, thanks to funds from the Federal Government's BER scheme in conjunction with the State Government.
Today, State Education Minister Adrian Piccoli and Mulgoa MP, Tanya Davies toured the construction site for a glimpse of what the school will offer students and teachers.
Kurrambee caters for students with severe intellectual disabilities and Mrs Davies said the highlight of the new school is the in-ground hydrotherapy pool, complete with a lift to allow easy access for students with mobility impairments.
"The hydrotherapy pool really is a stand out feature – currently, students are boarded onto a bus, taken to the local pool, have to get changed, then there's the whole process to get back to school. This pool will save them so much time," she said.
Other features include break-out rooms for individualised learning, a large assembly area, a sandpit and playgrounds for children with differing levels of ability.
"I really like the design of having the classrooms facing each other to create this great triangular playground, this is a great concept," Mr Piccoli said throughout the tour.
"It is great for the kids, great for the parents and for the teachers too who work tirelessly – this will ultimately lead to better teaching and quality outcomes for the students."
Principal, Lisa Moffat, is excited by the progress.
"I have been consulted every step of the way and the school is looking great. Next term we are planning to bring the students to the site so they can see their new school, everyone is very excited," she said..