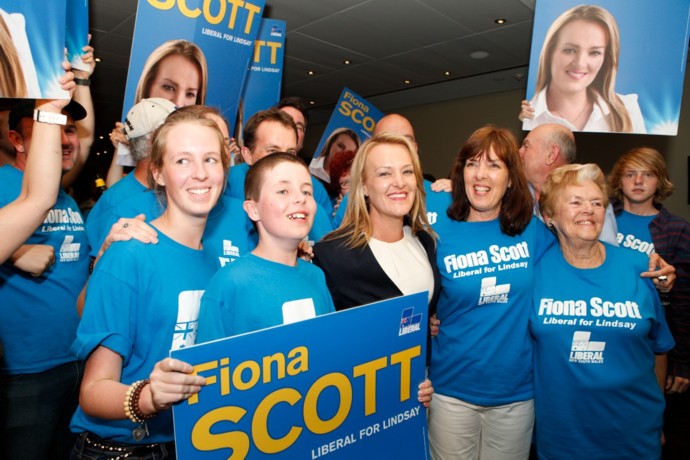 Lindsay has fallen to the Coalition for the first time since Jackie Kelly was the local MP in 2007.
Sitting Labor MP David Bradbury conceded defeat at around 9pm at a gathering at St Marys Band Club.
"It has been the greatest privilege of my life. It is of course a sad night because after 14 years of supporting my community, that service comes to an end," Mr Bradbury said.
"Every cloud has a silver lining and for me, as difficult as tonight is, I look forward to spending more time with my family."
With almost 70 per cent of the vote counted in Lindsay, Ms Scott has secured 46.13 per cent of the vote, compared to Mr Bradbury's 40.02 per cent.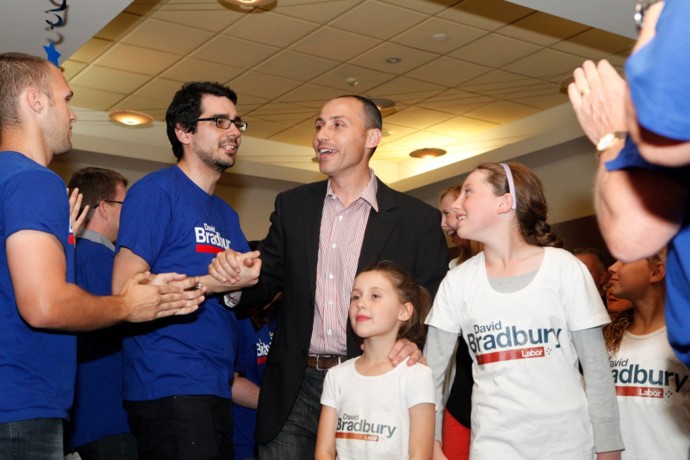 Ms Scott joined supporters at Panthers Leagues Club to claim victory at around 9.30pm.
"The people of Lindsay have not just shown faith in me tonight but faith in our Liberal team," she said.
"It has been a very tough battle… it's been a very bruising contest. I guess they say what doesn't kill you makes you stronger and I am a stronger person today than I was three years ago."
Ms Scott said she would now start working hard for the people of Lindsay as their elected representative.
"I'm sure it will take a few days to sink in," she said.
"I am sure over the next three years I will be able to prove to you why I will be a very very good Member for Lindsay.
"I am humbled by the result tonight and I am so humbled that people have put their trust in me."
The Coalition has not won the election in a landslide but has done enough to secure victory and ensure Tony Abbott is the new Prime Minister.
Conceding defeat in Brisbane, Prime Minister Kevin Rudd said he wished Mr Abbott well.
"Today we have fought the good fight as the great Australian Labor Party," Mr Rudd said.
"Tonight is the time to unite as the great Australian nation.
"As Prime Minister of Australia I wish him well in the high office of Prime Minister of this country."
Mr Rudd confirmed he would stand down as Labor leader.
Mr Abbott entered Sydney's Four Seasons Hotel to chants of "Tony, Tony, Tony".
"I now look forward to forming a government that is competent, that is trustworthy and which purposefully, and steadfastly, and methodically sets about delivering on our commitments to you the Australian people," Mr Abbott said.
He promised his Government would be one of "no surprises and no excuses".
"In three years time the carbon tax will be gone, the boats will be stopped, the Budget will be on track for a believable surface and the roads of the 21st century will finally be well underway," he said.
"From today I declare Australia is under new management and Australia is once more open for business."
David Bradbury had held the seat of Lindsay for Labor since 2007, when he claimed it on his third attempt. He said he "fought till the death" at this election.
"Today that wasn't enough but I can go to sleep tonight, and I will sleep well tonight, in the knowledge that there is nothing more we could have done to win this seat," he said.
"I do wish her (Fiona Scott) all the best. This is a great community but it is a difficult electorate to represent. I hope she gives it her best."
The big surprise packet of the election in Lindsay is Palmer United Candidate Andrew Wilcox, who has secured around five per cent of the vote.

"I've got great feedback. People liked there was another alternative. People were sick of the two parties, they'd love to see a third party, and hopefully Palmer United becomes that," Mr Wilcox said.
Ms Scott spent the day visiting numerous polling places across Lindsay, and cast her vote at Glenmore Park High School mid-morning.
Mr Bradbury voted with his wife and four children at Claremont Meadows Public School just after 9am before campaigning at polling places throughout the day.
But for many people, today was all about the sausage sizzle. At Jamison High School, 30 kilograms of sausages sold out before 1pm