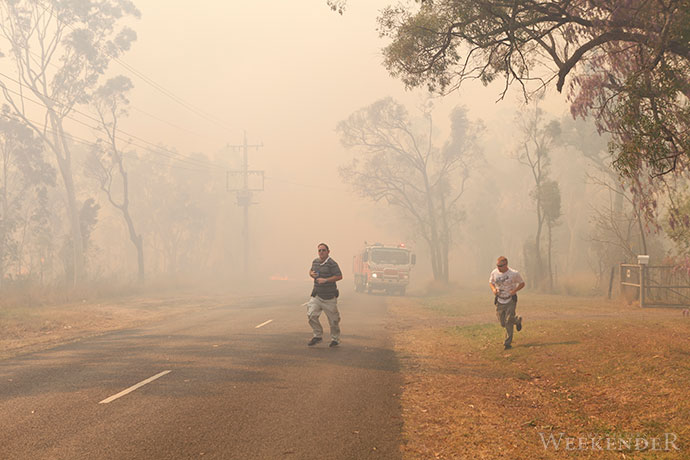 A large fire continues to burn out of control across bushland in Castlereagh, Cranebrook and Londonderry, in close proximity to local homes, businesses and schools.
NSW Fire and Rescue, Rural Fire Service and Bush Fire Brigade crews have been fighting the blaze since around 11am this morning, when it began on a property near Devlin Road, Castlereagh.
The fire has since moved across 60 hectares of land, destroying the natural bushland as it goes.
Locals from select areas in Castlereagh and Londonderry, including homeowners on Devlin Road, Nutt Road and surrounding streets have been evacuated.
Police and NSW Fire and Rescue officials say that none of the homes in the area have been damaged as of yet but that hasn't stopped residents from preparing for the worst.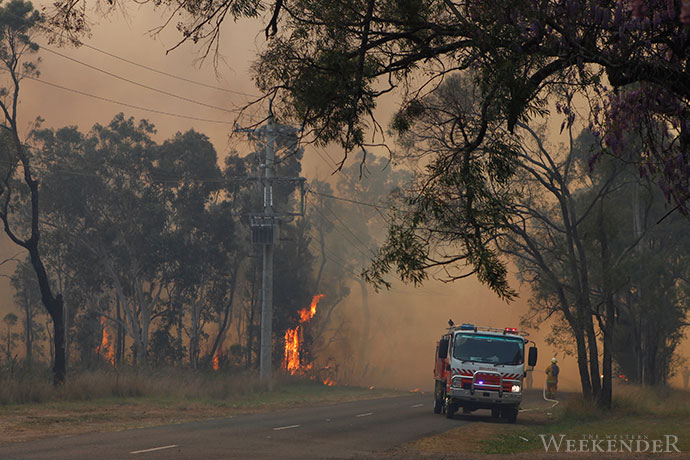 Johnny Greenhalgh has owned and lived on a property on Devlin Road for 32 years and spoke to the Weekender not long after the call was made for residents on Devlin Road to evacuate.
"I was here when the fire began and I would have gone to work but I could see that the fire was spreading and thought that I had better stay," he said.
"If the wind changes direction, my home will be in danger and the way Australian weather can change, we have to expect the worst.
"I have cleaned out the gutters [as a precaution] but I have too many animals and that is my concern."
The Weekender was at the scene when the fire reached Nutt Road, just meters away from homes.
Richmond resident Melanie Carr just made it to her elderly father's house on Nutt Road in time to save his two dogs.
"I was worried about dad. That's why I flew down here but luckily he has already gone and taken the cats to my sister's place," she said.
Despite the close proximity to fires, some long-time residents are not as concerned about their properties as should be expected.
"We've seen fires like this before and it doesn't get much worse than this. We live in a hollow area and there aren't too many trees around so our houses are normally safe," said Jim Marsh, of Spencer Road, Londonderry.
"We see it go up about every six years, when everything has dried up. This is a bit much though." He said.
Road closures are still in place across the area including The Northern Road, which is closed at Cranebrook Road. Londonderry Road is also closed in both directions.
At one stage during the fire, low visibility caused a major accident on Castlereagh Road at Castle Street.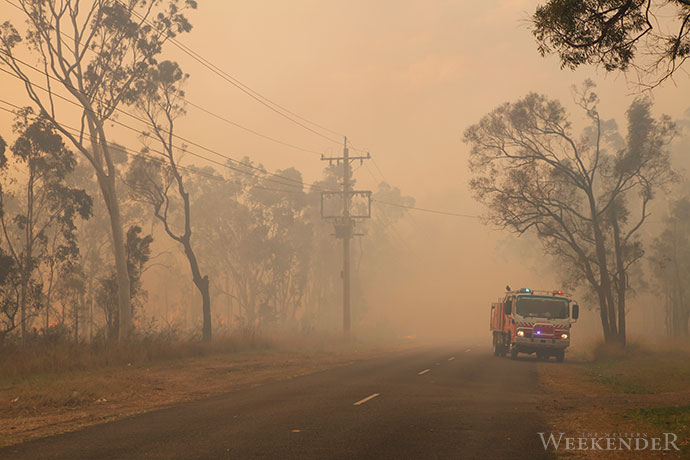 Nepean Blue Mountains Local Health District is urging the public to take precautions during the fire.
It is expected that the current smoke levels could persist over the next few days and may worsen.
Dr Brad Forssman, Director of Public Health, Nepean Blue Mountains Local Health District advised that small children, the elderly and people that have heart or lung disease including asthma are most susceptible to experiencing health effects from air pollution.
"Common health effects are a cough, sore eyes, and shortness of breath, which can last for several days after smoke is inhaled," said Dr Forssman.
"If you have asthma or other lung problems, please make sure you have your reliever inhaler with you. Follow your Asthma or COPD Action Plan, but if your symptoms don't settle please go to your GP or the local emergency department."