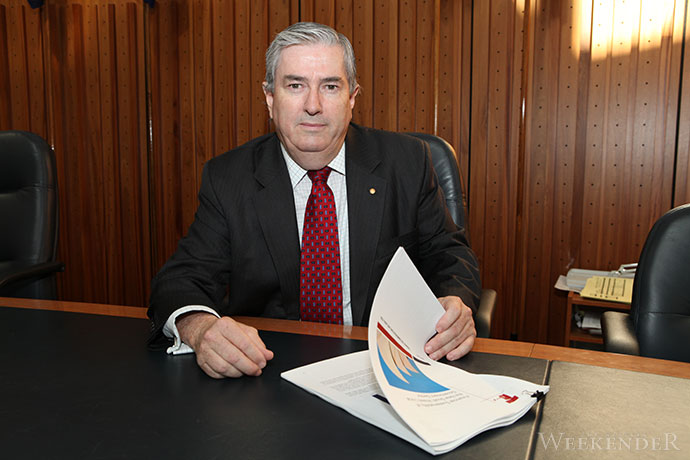 Ross Fowler is set to become Penrith Mayor on Monday night during what is expected to be a fiery Council meeting.
But the Weekender can reveal that the position of Deputy Mayor is less than certain, with independent Councillors Jim Aitken and Jackie Greenow in a tight contest for votes.
A deal was struck after the September 2012 Council elections to install Cr Fowler and Cr Aitken in the roles of Mayor and Deputy Mayor respectively, in Council's second year.
However, the deal has been cast into doubt, with Liberal-leaning independent Councillor Marcus Cornish refusing to confirm whether he'll support the arrangement.
"I am not sure which way I will vote," he said.
Cr Fowler will still have the majority of votes however, with Councillors Mark Davies, Ben Goldfinch, Bernard Bratusa, Tricia Hitchen, Jim Aitken, Kevin Crameri and Maurice Girotto expected to back him.
The fate of the Deputy Mayor position is in the hands of Cr Girotto and Cr Cornish.
"I do not want to upset the apple cart, that is not my intention, I understand these deals were made at the election," Cr Girotto said.
Cr Aitken has the backing of the Liberal-leaning Councillors and independent, Cr Crameri. However, when asked if he would consider supporting Cr Greenow as Deputy Mayor, Cr Girotto admitted she would be an excellent candidate for the position.
"If Jackie puts her hand up for Deputy Mayor, this may change things," he said.
Cr Greenow has the backing of all four Labor Councillors for both the position of Mayor and if unsuccessful, Deputy Mayor, as well as Greens Councillor Michelle Tormey.
A vote from Cr Girotto for Cr Greenow would result in Cr Cornish casting the deciding vote.
Cr Cornish has himself indicated he would be interested in the Deputy Mayor job in the future.