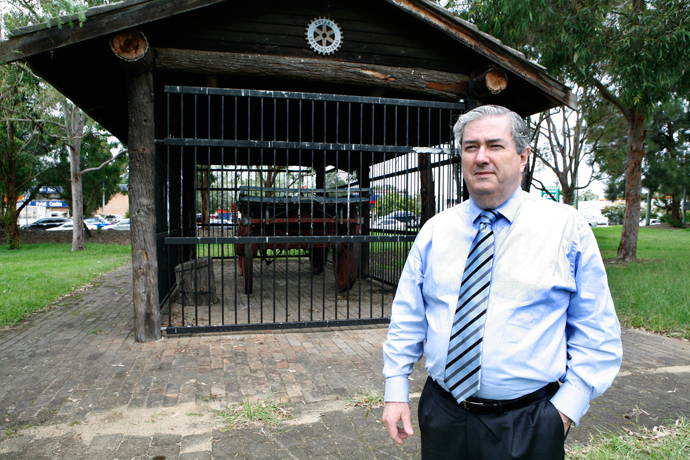 An agenda to encourage economic development, jobs growth and financial viability of the Council has been set by Penrith's new Mayor, Ross Fowler.

Taking the chair on Monday evening after being elected by his Councillor colleagues, Cr Fowler was happy to accept the Mayoral Chains from outgoing Mayor Mark Davies.
Cr Fowler defeated Cr Jackie Greenow for the top position eight votes to six with the support of Councillors Jim Aitken, Kevin Crameri, Bernard Bratusa, Ben Goldfinch, Tricia Hitchen, Mark Davies and Maurice Girotto.
"My focus will not only be on what happens in the next 12 months but on the years to come. We must remain financially stable and increase employment opportunities," he said.
"I am looking forward to the development of a strategy for the growth of the Penrith CBD. My aim is to continue to the great work we have already started."
Cr Fowler will also instigate an investigation into alternative revenue streams to guarantee Council's financial sustainability. He thanked his wife for her support over the years and said that politics would not rule in his term.
"I am a proud member of the Liberal Party, but first and foremost I am now Mayor of Penrith and will be acting in that manner as a matter of expedience," he declared.
Politics did play a part in the evening though, with Cr Marcus Cornish abstaining from the Mayoral vote – however the two Liberal Councillors shared a handshake after the election was declared.
Cr Jim Aitken was elected as Deputy Mayor, defeating Cr Greenow despite her backing from her Labor, Greens and Australia First colleagues.
Cr Aitken won with the support of Councillors Marcus Cornish, Bernard Bratusa, Tricia Hitchen, Ben Goldfinch, Mark Davies, Kevin Crameri and Ross Fowler.
"Thank you to my colleagues who have shown their support for me by giving me this great honour," Cr Aitken said on Monday night.