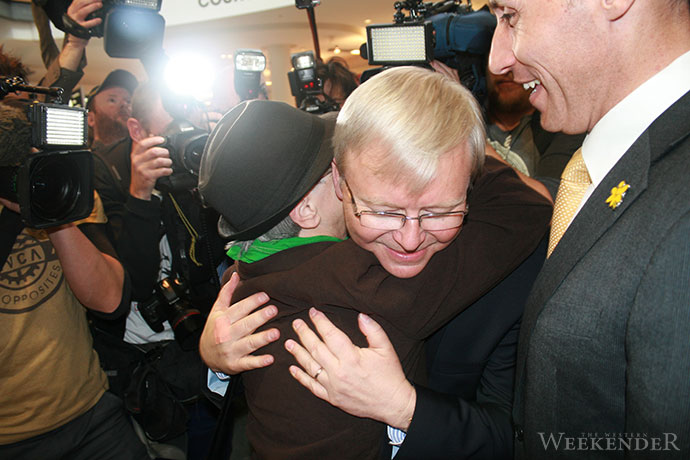 On his first visit to Lindsay during the election campaign, Prime Minister Kevin Rudd launched a counter attack on Opposition Leader Tony Abbott's promise to cut red tape for business.
During his western Sydney blitz this morning, he announced that around 1.35 million businesses with a GST turnover under $20 million a year will be allowed to lodge their Business Activity Statement once a year, instead of quarterly, from July 1, 2014.
"Right now in small business, if you have a small business that's generating more than $2 million in GST turnover, your required to submit four BAS statements every year," Mr Rudd said.
"Now that's a lot of red tape. Now we understand GST compliance takes about half the time of overall business tax compliance. So we want to cut that further.
"That reduces enormously the burden of business compliance for the small businesses of Australia. It is all about taking the burden off small business."
Lindsay MP David Bradbury, said that though businesses are not receiving a tax cut, they will save significant time and money through the proposed changes.
"Mr Abbott has had a few of these three word slogans in this campaign and 'cutting red tape' has been one of them. But I have three letters for Mr Abbott and that's GST," Mr Bradbury said.
"Never before have small businesses been strangled by red tape quite like they were when the former Coalition Government introduced the GST. Well today we are taking out the scissors and were going to cut some of that red tape."
Following the announcement, Mr Rudd and Mr Bradbury conducted a walk through Westfield shops, taking "selfies" with shoppers and answering questions.
But is was a hard pitch to some locals, who heckled from the walkways above, and others who found Mr Rudd's answers to their questions unsatisfying.
One mother said that despite to introduction of GPO Superclinics, she was still waiting too long to see a GP with her children.
Another young shop attendant however, told Mr Rudd he was winning the youth vote and should keep campaigning strongly.